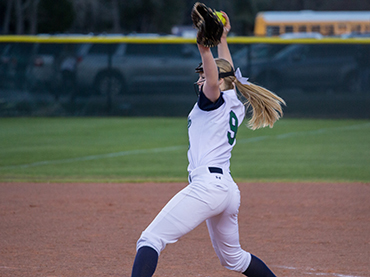 THE WOODLANDS, Texas - The Woodlands Lady Highlanders softball team bounced back from just their second district loss in the last five seasons, with a 10-3 win over cross-town rival College Park on the road Friday night.

Baylor-commit Abby Langkamp hit two homeruns and three RBI's for the No. 1 Lady Highlanders, as The Woodlands bounced back from a 6-3 loss to No. 6 Atascocita on Tuesday night. Langkamp also got the start on the mound and went a complete game, scattering six hits and allowing just two earned runs, while striking out seven.

College Park (5-8, 0-2) couldn't find an offense rhythm as the Lady Cavs went 6-for-27 at the plate against the Lady Highlanders and tried to rally in the later innings, however couldn't get a run across until the bottom of the fourth, after The Woodlands (12-1, 2-1) had a 6-0 lead.

Nikki Giles and Julie French combined to go 4-for-7 with three runs scored to lead the Lady Cavs' effort.

The Woodlands take a break from district play and will take part in the Sienna Tournament on Saturday.

College Park will travel to Oak Ridge on Tuesday, March 10, at 6:30pm, in a game broadcasted live on Woodlands Online.