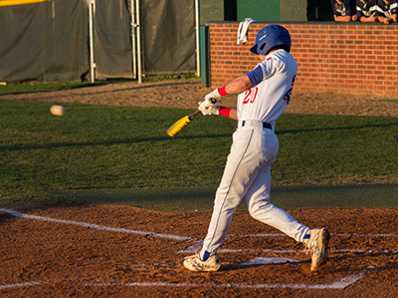 WACO, Texas -- It appears as if the Oak Ridge War Eagle baseball team's Dr Jeckyl and Mr Hyde act was just a one night showing. Riley McKnight and his band of "team no ego" brothers were back to being themselves in dismantling the Rockwall Yellowjackets to the tune of an 8-3 victory Friday night at Baylor Ball Park to even the best of three Region 2-6A Semi-final series.

McKnight, a senior went 5 for 5 with four ribbies. The War Eagle second sacker plated Tyler Hicks and Zach Rollins on a seeing eye triple in the second inning to put Oak Ridge up early.

Rockwall (25-8) tied things up in their half of the second inning and the score remained the same until the fourth inning when Oak Ridge batted around the order scoring five runs to break the game open. McKnight batted in another run on a single and on cue, the War Eagles started knocking in runs one after the other as Michael Lawson, Anthony Smith, Alex Wixson and Durbin Feltman followed McKnight's lead.

McKnight expressed how much he enjoys playing for the War Eagles and why he thinks they are so successful...

"The reason this team is so fun to be a part of is because of how close of a bond we have with one another. Playing with this group of guys has made this season amazing. We're successful because no one is selfish and we play as a single unit. If someone is down during the game, a teammate is going to pick him up and step up and that is how it has been all season. We are hungry and want to win state more than anything and nothing is going to get in our way of achieving that goal. We all know our role and give it our all every single game. We've grown up together which has made it that much better."

Recently crowned Gatorade Texas High School Player of the Year, Luken Baker had another solid outing on the bump for the War Eagles in going the distance surrendering just three hits, two free passes, two earned runs while fanning 12 as he baffled Yellowjacket hitters all night long.

Oak Ridge first base coach, Andy Einhaus was glad to see the real Oak Ridge War Eagles show up for game two...

"We wanted to come out tonight and compete. Rockwall is a very solid team and we knew we had to get to playing our style of baseball in order to get the victory. How we came out Thursday night wasn't us as a team. Tonight, it was fun to watch our kids go out and play like we know they can."

Anthony Smith had a two hit evening for the War Eagles. Baker, Lawson, Wixson, Feltman, Hicks and Coby Smith all hit safely as the Oak Ridge bats came alive after a brief disappearing act in Game One. Rey Chapa swiped a base for Oak Ridge.

Rockwall freshman, Brooks Helmer started on the mound for Rockwall and went 4.2 innings giving up seven runs of which only five were earned, eight hits, two walks while striking out one Oak Ridge batter. The young pitcher has been getting it done for the Yellowjackets all season long but ran into an Oak Ridge buzz saw in Game Two. Helman contributed a hit at the plate.

Shayne Nance and Charlie Hatcher had two hits for Rockwall.

Expect D-1 (Dallas Baptist) commit, Nance to be on the mound for Rockwall in the deciding game. He hovers around the 87-91 fastball range and tops out at 93.

At press time, Coach Mike Pirtle wasn't certain who'd get the ball for Oak Ridge.

The War Eagles have been playing together since little league. We'll see if they get to prolong their relationship on Saturday at 2pm at Baylor Ball Park. Count on the gritty Yellowjackets to give Oak Ridge all they can handle.