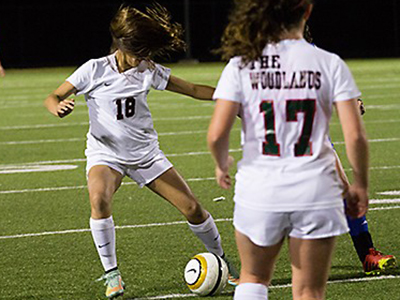 THE WOODLANDS, Texas — The undefeated Kingwood Lady Mustangs trampled the Lady Highlanders at Woodforest Bank Stadium on February 23. Both teams battled against the strong winds and cool temperature.

Kingwood dominated the field in the first half. In the 25th minute, the Lady Mustangs scored. The goalie for the Lady Highlanders let the ball slip from her hands, allowing The Kingwood offense to take advantage. After the goal, The Woodlands was eager to put a number on the scoreboard. They had several goal attempts and break aways down the sides of the field but were thwarted by the strong Lady Mustang's defense.

At the end of the first half, the score was 1-0, with the Lady Mustangs in the lead.

The Woodlands came out of the locker room determined to score a goal. Both teams were undefeated and this was a major game in defining which team comes first in districts.

During the second half, the Lady Mustangs maintained possession on the offense. The Lady Highlanders had a few break aways for possible goals but were unable to complete it. After a long battle between both teams, Kingwood came out on top with a final score of 1-0. The Lady Highlanders are no longer undefeated.