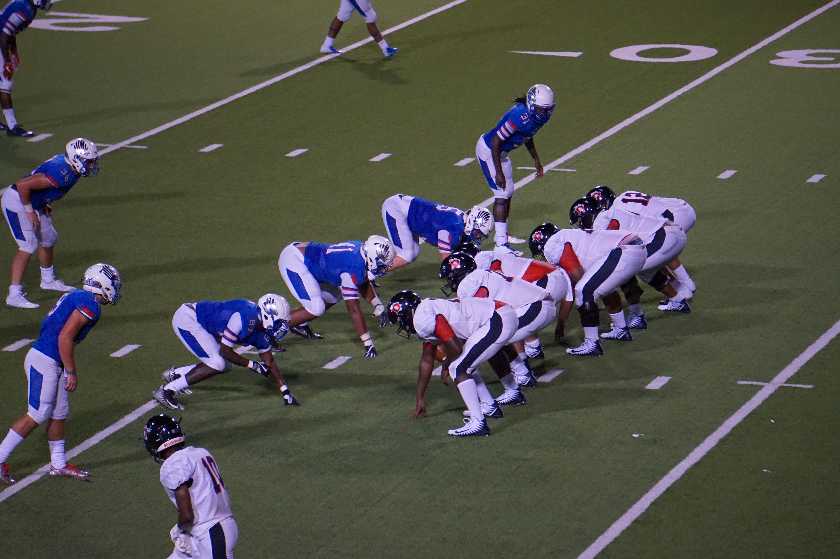 THE WOODLANDS, Texas-- Opening day for the War Eagles as they host Dawson High School from Pearland. Oak Ridge won the coin toss but deferred to 2nd half. Pearland-Dawson chose to receive the season-opening kickoff.

Caleb Eaton did most of the groundwork with for Pearland-Dawson. Chris Young led the defense with a quarterback sack. Phillip Ossai and Casey Ossai contributed to holding the Pearland-Dawson offense. While Dawson's Henry Devon Leon and Marcus Allen slowed Oak Ridge's progress, Harrison Smith and Camden Barajas both gained the most yards for Oak Ridge. Both teams played between the 30-yard lines for most of the 1st half. Max Gonzalez consistently punted the ball out of Oak Ridge territory while making some key tackles at linebacker. Pearland-Dawson was the first to score with 34 seconds left in the first quarter and scored again with just under four minutes left in the second quarter. The Oak Ridge offense claimed the first major yardage gain with the Quarterback pitch from Blane Romero to Logan Letney for the first time in the game. Oak Ridge capitalized on the gain and scored their first touch down of the night two plays later, with four seconds left to play in the half.

The second half, both teams moved the ball more. Oak Ridge's Kavon Townsend and Alton McCaskill had a few successful carries and Blane Romero gained yards with a quarterback keeper but was downed by Pearland-Dawson's Demetrius Wilson. Touchdowns by Dawson's Jaden Stewart and Mason Pierce came late in the third quarter. Not to be outdone, Oak Ridge's called on their big skill players, including Darius Richmond and Max Gonzalez, and scored again with 2:22 left in the third quarter.

The fourth quarter found Oak Ridge's Camden Barajas in the end zone again, closing the gap and bringing the score of 27-21 in favor of Pearland Dawson with 9:07 left in the 4th quarter. The Oak Ridge defense played hard with Barajas, Gonzalez, Richmond, McGowan, and Martinez all slowing their opponents progress; but Pearland Dawson answered with their final touch down by Eaton with 1:30 left in the game. Final score: 34-21.