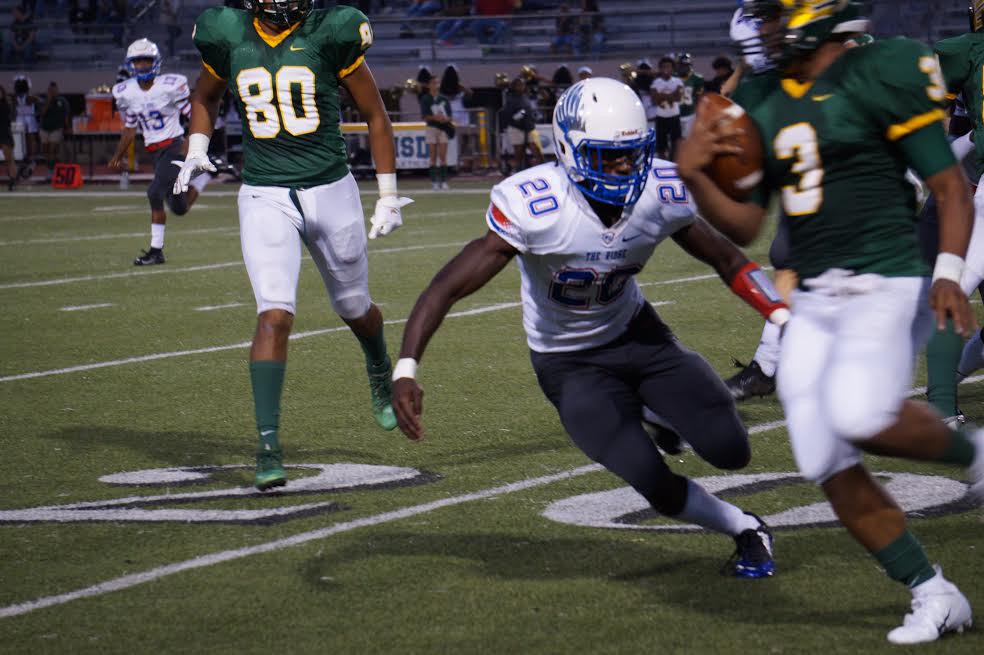 THE WOODLANDS, Texas - Oak Ridge War Eagles came out victorious in the battle of the Eagles Friday night at Klein Memorial Stadium.

Klein Forest High School headed into the season with a record of 1-2 and with the final score concluding at 49-14. The Oak Ridge War Eagles came into Friday night's game 1-3.

The first touchdown of the night came from War Eagles quarterback Blane Romero who connected on a 36-yard touchdown pass to wide receiver Kavon Townsend with 5:21 left in the first quarter.

With the Oak Ridge War Eagles coming back on offense, the opportunity for sophomore running back Alton McCaskill presented itself. Blane Romero handed the ball off to Alton resulting in a 36-yard touchdown.

Klein Forest sent out their punt unit again. Oak Ridge's kick returner Evan Berry put the War Eagles offense in prime scoring position again. Another Blane Romero inside handoff sent sophomore running back Alton McCaskill down the sideline for his second touchdown coming from a 36-yard run, pushing the lead to 21-0 War Eagles.

With six minutes left in the second quarter, cornerback Dylan Hamilton intercepted a pass, returning it all the way back to Oak Ridges 4-yard line. In scoring position quarterback Delvin Jones rushed for a 1-yard run for a quarterback sneak, making the score 21-7. Evan Berry floored past defenders and ran 100-yards down the sideline to put the score at 28-7 Oak Ridge War Eagles.

In the second half Klein Forest Golden Eagles drove the football all the way down to the 2-yard line of Oak Ridge red zone. Fullback Maurice Westmoreland punched in an inside 2-yard run to make the score 28-14 Oak Ridge War Eagles.

Senior Quarterback Logan Letney was sent out for a diversion wildcat play where he took an outside sweep 5-yards into the Golden Eagles end zone, pushing the score to 35-14 Oak Ridge.

Klein Forest quarterback Delvin Jones aired a 68-yard pass to wide receiver JaVon Edwards who caught the pass and broke away from a couple defenders to an open field sprint, until he tripped and caused the ball to go out the end zone, resulting in a turnover.

With under a minute left in the third quarter, Oak Ridge junior wide receiver Adrian Murdaugh went untouched for another 53-yard touchdown, pushing the lead to 42-14.

With time winding down at Klein Memorial Stadium and Oak Ridge High School locking in their second victory of the season, Cameron Maalouf threw a 35-yard pass to Adrian Murdaugh who ended up with his third touchdown to push the War Eagle lead to 49-14.

The Oak Ridge War Eagles and Coach Dereck Rush are currently sitting at 2-3 and are looking to continue their success as they head into next week's game against crosstown rival College Park Cavaliers.