/

/

Best of The Woodlands concludes its 10th anniversary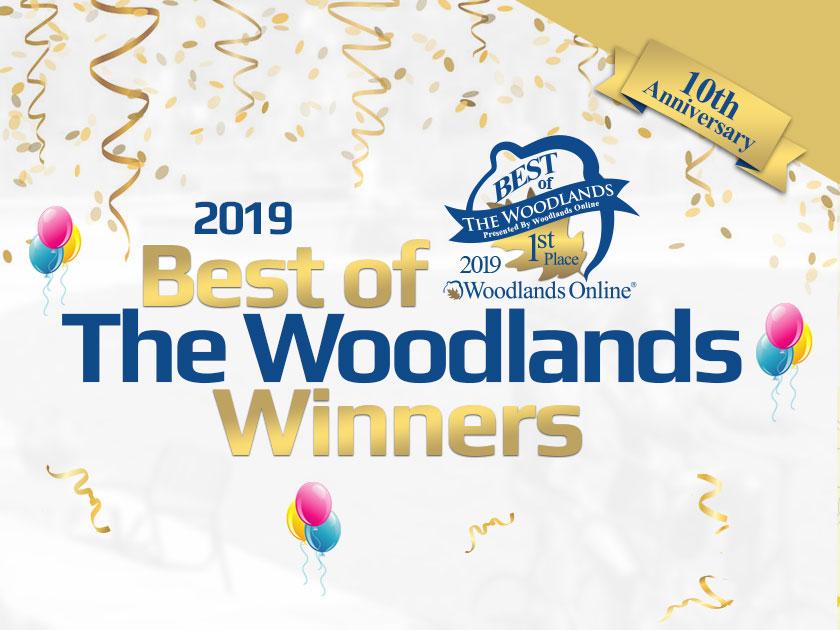 THE WOODLANDS, Texas -- The moment you've been waiting for has arrived. Members of our community cast their votes. Best of The Woodlands 2019 results are tallied.


View the Best of The Woodlands 2019 winners!
During the past 10 years of hosting Best of The Woodlands, we've seen the community rally in support of their favorite businesses and organizations. What a blessing it's been to see the positive growth of The Woodlands.
Today we celebrate alongside the people and businesses who serve to make this a better place for all. Consistently providing good service brings the honor of recognition. Many long-time companies in The Woodlands continue building on their reputation, winning multiple years in a row. New enterprises and organizations emerge every year with purpose and commitment to service, adding to our growing community.
This year marks a special achievement for many businesses: winning the Best of The Woodlands title both in year one and in this 10th year of the event. Maintaining this level of service excellence for 10 years is quite a feat. As the competition has grown in stature over the years, we've added a multitude of new categories. Some enterprises from these additional categories triumphed in the first year of their respective type along with a blue ribbon finish in 2019. Further recognition for these groups lies ahead as they are featured throughout the year.
This year something unexpected occurred with a tie for Business of the Year. Karate of The Woodlands and Mr. Rooter received equal votes. Congratulations to you both.
Karate of The Woodlands
said, "We feel blessed and humbled by this recognition. We are thankful to our friends, families and members over the past 30 years for showing their support."
Mr. Rooter
received the tie for Business of the Year and placed first in the plumbing category. ''What an incredible surprise! Last year, receiving 'Small Business of the Year' from the Conroe/Lake Conroe Chamber of Commerce was an honor in itself. This year's award from Woodlands Online holds the same honor in our hearts and rewards the dedication that we, as owners and residents of Montgomery County as well as our dedicated employees, are honored to receive and we humbly accept the honor and challenge to continue,'' said the company.
Placing first for 10 years in a row in the category of Best Attorney, Lawyer & Legal Services is
The Strong Firm
. Bret L. Strong, attorney and managing shareholder of The Strong Firm, said, ''We are so honored to have been voted number one by Woodlands Online users for 10 years running! We consider this a reflection of our team's commitment to community and providing local businesses and residents high-quality legal services tailored to meet our hometown's needs. We thank Woodlands Online for their commitment to an online platform focused on The Woodlands as an amazing place to live, work and play.''
Amazing Spaces
snagged the number one spot again this year. They shared, ''It is a privilege to be able to serve The Woodlands area communities. Being voted number one for Best of The Woodlands for the 10th straight year is an absolute honor. We are thrilled and humbled by this distinction. Thank you to everyone who voted for our amazing differences in storage!''
Walt Crowder, president of the
Lawn Ranger Company
, said, "Being voted 'Best of The Woodlands' again in 2019 is our assurance we are doing the job we set out to do, and your assurance you won't get a better service elsewhere for lawn fertilization and weed control, landscaping, lawn maintenance, sprinkler systems, landscape lighting, drainage solution, etc. Thank you to all our team members here at Lawn Ranger Company for the awesome job you do in providing great service to our many satisfied customers since 1995. Thank you, customers and friends, for giving us your vote! Thanks to you, we have enjoyed this honor for 10 years in a row! We appreciate you! We appreciate your business!"
Businesses and organizations which placed first through third will receive an exclusive Best of The Woodlands logo on their business directory page for the next year. Winners can also obtain stickers, door clings and a plaque to hang proudly at their place of business.
Thanks to all who shared in the voting. A round of applause and commendation goes out to all winners and runners-up. Special thanks to
The Woodlands Heating & Air Conditioning
for sponsoring Best of The Woodlands 2019.
View the Best of The Woodlands 2019 winners!