/

/

Five Family Members Hospitalized After Overnight Fire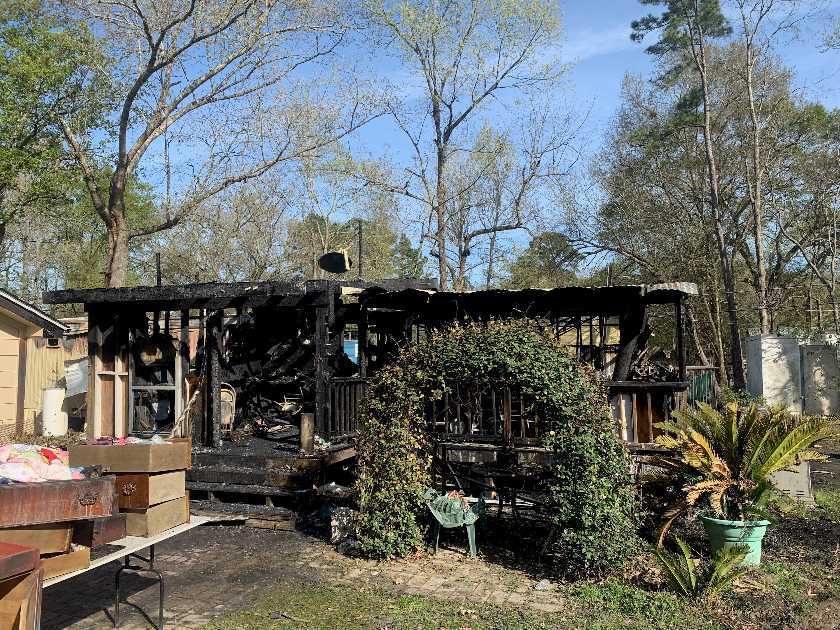 MONTGOMERY COUNTY, Texas - Just before daylight this morning, a New Caney resident was awakened by the sounds of the family dog scratching on her bedroom door. She then heard the coughs of her children in the next room, struggling to breathe in their smoke filled home located in the 21400 block of Dunn St.

Earlier that morning her husband had left for work and the rest of the family, including four children between the ages of 10 and 18, were fast asleep when a fire broke out in their bathroom. There were no working smoke alarms in the home, and had it not been for their dog alerting them, the family may very well have perished.

All five occupants were able to escape and firefighters from the East Montgomery County and Porter Fire Departments soon arrived, but it was too late to save the family's home. While Firefighters went to work to contain the fire, EMS crews began treating the family, all of whom suffered from smoke inhalation. They were stabilized and then transported to area hospitals where all are expected to fully recover.

Investigators from the Montgomery County Fire Marshal's Office responded to the scene and conducted an investigation into the cause of the fire. Investigators determined that a space heater in the bathroom ignited nearby combustible material, sparking a fire which quickly filled the home with hot, toxic smoke.

Temperatures are expected to be near freezing again tonight, leading many residents to consider using alternative heating devices such as space heaters. Portable space heaters are responsible for the majority of fatal home heating fires and should never be left unattended. If you do choose to utilize portable space heaters, always plug electric heaters directly into the wall, never into an extension cord. Both electric and gas fueled space heaters should be kept at least 3 feet away from anything that will burn and should be turned off when you go to bed.

The number one thing you can do to protect your family is to install working smoke alarms in every bedroom and hallway in your home. Homeowners that need help installing smoke alarms or cannot afford them can call 936-538-8288 and request assistance from through the "Get Alarmed Montgomery County" program. The program was established to help insure that Montgomery County homeowners have working smoke alarms in their homes. Under the program, Montgomery County Firefighters will come to your home and install long life smoke alarms for you, cutting your family's chance of dying in a fire in half.

If you are renting your home, State Law mandates that your landlord install smoke alarms in every bedroom and hallway. Tenants are then responsible for replacing the batteries in the alarms.