/

/

Investigation Continues into Multiple Alarm Fire in South Montgomery County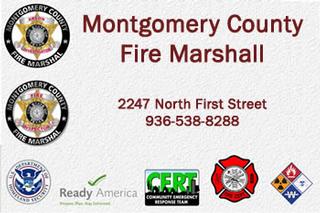 MONTOMERY COUNTY, TX - Just after Noon Monday, Montgomery County Firefighters responded to reports of explosions and a building on fire in the 2100 block of Old Ox Road. Nearly a dozen Fire crews were on scene within the first 10 minutes along with EMS crews from the Montgomery County Hospital District. The first crews from the South Montgomery County and Woodlands Fire Department reported a major building fire in progress and EMS crews began assessing and treating a burned occupant. Firefighters called for additional assistance as the fire was threatening several other nearby buildings and homes, bringing crews from Spring, Timber Lakes, Needham, Porter, and East Montgomery County Fire Departments to the scene. Three EMS crews and an EMS Supervisor also responded to check for injuries and monitor the health of the firefighters.

Investigators from the Montgomery County Fire Marshal's Office responded to the scene and began an investigation that remains underway at this time. Investigators are still on scene today, examining the extensive damage and interviewing witnesses. Initial witness reports indicate that a flammable liquid was being transferred as part of a commercial manufacturing operation when a flash fire ignited, leaving one person with non-life threatening burns. The resulting fire destroyed two buildings and threatened to spread to nearby structures before a coordinated effort brought the fire under control.

The investigation remains active at this time.