/

/

Arctic Blast leads to Dozens of Structure Fires and Carbon Monoxide emergencies across the County
Arctic Blast leads to Dozens of Structure Fires and Carbon Monoxide emergencies across the County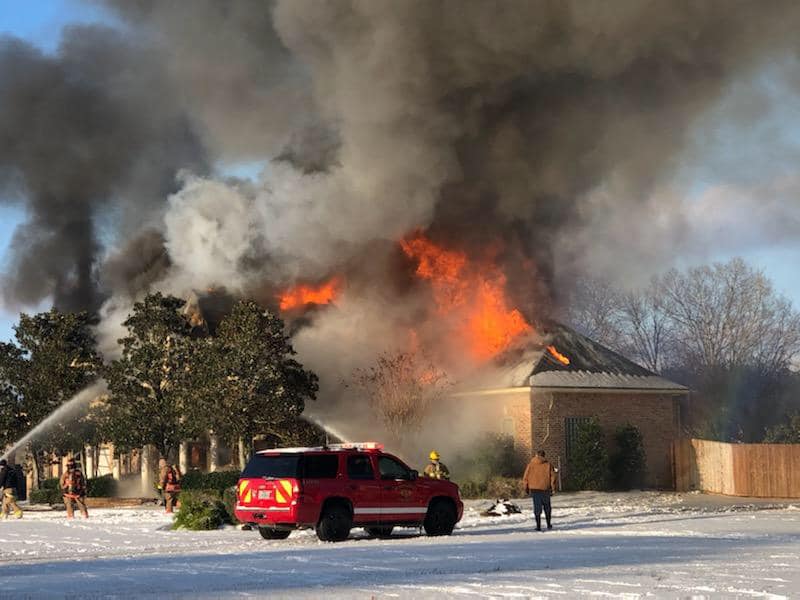 MONTGOMERY COUNTY, TX - Ten days ago, as forecasters predicted a prolonged drop below freezing, Montgomery County's Firefighters braced for an expected spike in home heating fires. That spike began in earnest as soon as temperatures dropped last Sunday night and snow began to blanket our area. For the next five days, Montgomery County Firefighters responded to 3,132 calls for service, a 300% increase over the same time frame last year, including one 24 hour period where crews responded to well over 1,000 emergency calls, five times their normal daily workload.
Two County residents received minor burn injuries, while several residents reported possible carbon monoxide poisoning.
In addition to the increased numbers of 911 calls, Firefighters had to contend with freezing weather and poor road conditions, factors they don't normally face in southeast Texas. While many of the reported structure fires were quickly extinguished, at least 29 seriously damaged homes or businesses, displacing residents during the worst of the winter storm. A Magnolia resident received minor burns trying to put out a heater fire that had started in his home, while a man in the Willis area was burned when a fire ignited as he was pouring gasoline into a generator. Fortunately, there were no fatal fires reported in Montgomery County during the storm.
Fire and EMS crews also responded to a number of calls last week related to carbon monoxide, a colorless, odorless gas that can be produced by fuel fired equipment such as heating and cooking equipment, as well as generators and similar appliances that burn fuel to operate. While Montgomery County was fortunate to not experience any fatal fires, a number of lives were lost across southeast Texas, both to home heating fires and carbon monoxide poisoning.
While the investigation continues into the cause of many of the home and business fires in our area, a number of them appear to have started as chimney fires or from the use of alternative heating devices, especially those in areas that lost electricity for an extended period of time.
This weekend saw a return to temperatures more typical of our area, but we still have a few weeks of winter left and the potential for more cold weather. Heating fires can be especially deadly, as they often occur at the worst possible time, breaking out in the middle of the night while our families are asleep. While space heaters are involved in 1 out of 3 home heating fires, they are responsible for 4 out of every 5 home heating fire deaths. The number one safety recommendation is to first and foremost have working smoke alarms throughout the home, especially in all sleeping areas.
Having working smoke alarms dramatically increases your chances of surviving a fire.
According to 
NFPA's latest heating equipment statistics
, there was an annual average of 48,530 fires home heating fires between 2014 and 2018, resulting in an estimated 500 civilian deaths, 1,350 civilian injuries, and $1.1 billion in direct property damage.
Preventing Home Heating Fires
A leading factor contributing to home heating fire deaths was heating equipment too close to things that can burn, such as upholstered furniture, clothing, mattress, or bedding. Many heating fires can be prevented by following basic safety tips when dealing with any heating equipment:
• Keep or maintain a 3 foot clearance between all heating equipment and anything that can burn.
• Inspect and maintain heating equipment regularly for safety.
• Be sure to have fixed space heaters installed by a qualified technician, according to manufacturer's instructions or applicable codes.  Or, make sure a qualified technician checks to see the unit has been properly installed.
• When buying a new, portable space heater, make sure it has the label showing it is listed by a recognized testing laboratory, such as Underwriters Laboratories (UL).
• Space heaters should be turned off every time you leave the room and before going to bed.
• Choose space heaters that turn off automatically if they tip over.
• Never use a space heater to dry clothing.
• Do not use your oven to heat your home.
• Install smoke alarms in every bedroom, outside each sleeping area, and on every level of the home.  For the best protection, interconnect all smoke alarms throughout the home.  When one sounds, they all sound. 
• Test smoke alarms monthly.
• If your home is equipped with gas appliances, install and maintain carbon monoxide alarms to avoid risk of carbon monoxide poisoning