/

/

UPDATE: Theatrical experience of Frank Sinatra takes the stage at the Cynthia Woods Mitchell Pavilion
UPDATE: Theatrical experience of Frank Sinatra takes the stage at the Cynthia Woods Mitchell Pavilion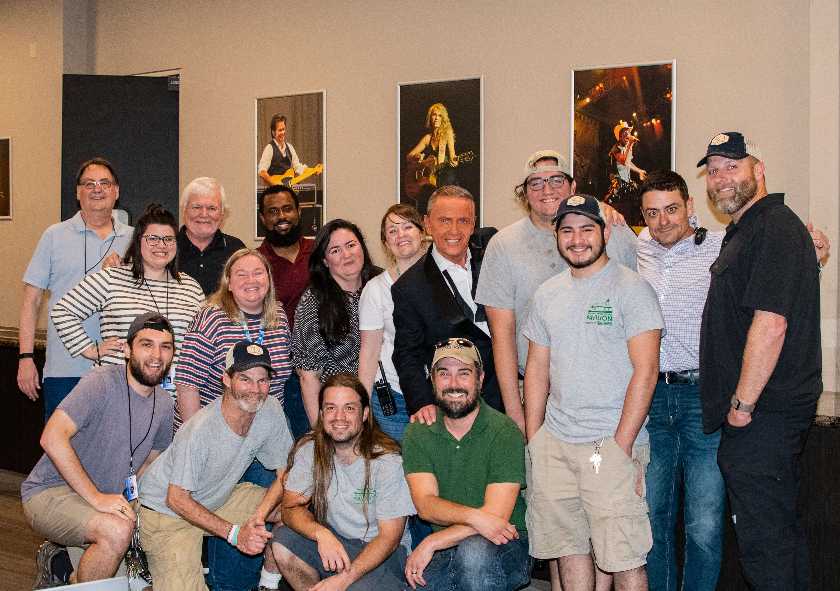 UPDATE: Staff members from The Pavilion pose with Bob Anderson, singer, actor and number one singing impressionist in the world, after his FRANK. The Man. The Music. theatrical tribute to Frank Sinatra Saturday, April 6 at The Cynthia Woods Mitchell Pavilion. The show marks a special occasion for the venue celebrating 30 seasons this year. Frank Sinatra played during the opening weekend of the venue in 1990.
Singing impressionist, Bob Anderson, to re-enact a night with Frank Sinatra
ORIGINAL STORY:
THE WOODLANDS, TX -- This Saturday, April 6, Frank Sinatra will step onto the stage of
The Cynthia Woods Mitchell Pavilion
by means of Bob Anderson, singing impressionist. The Woodlands is the first stop for this musical, theatrical tour.
It was 30 years ago Sinatra himself did his last show in Houston. Now Live Nation is bringing this spectacular event, described as the most authentic re-enactment of a Frank Sinatra concert ever performed on the live stage, to Houston!
Anderson, who has been studying Sinatra for years, has mastered his art. He's been voted as the "World's Greatest Singing Impressionist." Featuring The Vincent Falcone Orchestra, consisting of 32 talented musicians, "FRANK. The Man. The Music. starring Bob Anderson" is a show fans of the legendary singer will not want to miss.
Decades of singing impressions follow Anderson onto the stage. "I was in Branson, Missouri working shows with Andy Williams. He and I were great friends. And he and I did shows together for four years at his theater," Anderson said. "But before that, I was in Las Vegas for 31 years and working the Las Vegas Strip in all the showrooms."
Anderson recreates the celebrated stars of The Great American Songbook. Dean Martin, Sammy Davis Jr., Tony Bennett, Andy Williams, Johnny Mathis, Mel Torme, Nat King Cole, Bobby Darin, Tom Jones and Engelbert Humperdinck have all been played by Anderson. Of them all, Frank Sinatra is the most challenging for Anderson.
"The reason he is so difficult to do is because he does everything perfectly, but he has nothing to grab on to that makes him unique," Anderson said. "Frank Sinatra is right down the middle ... either you get it, or you don't." Anderson definitely gets it, as seen from the success of the show.
Anderson not only sings in the style of Frank Sinatra, he also steps into Sinatra's shoes for each performance. The complete look enabling Anderson to transform into Sinatra was designed by one of Hollywood's top make-up artists, Kazu Tsuji. Anderson revealed the makeup alone costs about $80,000. Anderson assumes the character through a process before the performance. "I go back to my dressing room. I'm getting dressed, and I have a glass of wine while I'm getting ready," Anderson said. Then with his makeup complete and his tuxedo on, he's ready to play Sinatra.
At times Anderson misses being himself on stage. In many of his performances, the first six songs are done in Anderson's own style. He uses that as an introduction leading the audience down memory lane to "the golden days" of entertainment. However, for "FRANK. The Man. The Music. starring Bob Anderson," he must stay in character throughout the entire production.
"When I get out there to sing, I've got a lot of adrenaline. And you have to control yourself that you don't overdo it. And, you know, you have to just stay in the character," Anderson said. "You don't do more, or you don't do less than what he did. You just try to get it as close as you can."
With humility, Anderson acknowledges, "They're not coming to see me … they're coming to see Frank Sinatra."
Saturday, April 6 is your chance to hear this gifted singing impressionist's reenactment of Frank Sinatra at Caesar's Palace in 1968. You can purchase your tickets to the 90-minute show
here
.