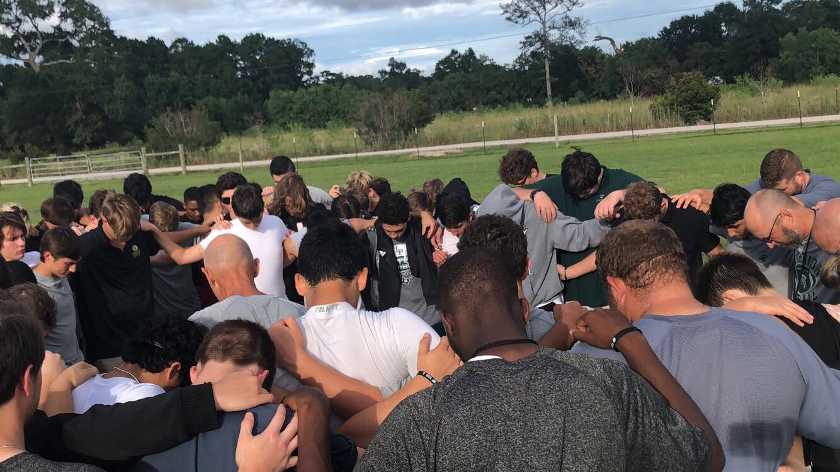 THE WOODLANDS, Texas -- Dion Pinkard's senior football season was set up to be the ultimate redemption story. The Legacy Prep team captain racked up many yards and accolades as a junior running back and middle linebacker on his way to a TAPPS Division IV State Championship game appearance in the 2017 season. The 1st-Team All-District and Offensive Player of the Year led the Lions to a meeting with Colleyville Covenant in Waco for a chance to accomplish every athlete's goal of winning it all. However, the Lions would fall to the Cougars, 14-0, leaving unfinished business for Pinkard to take care of in 2018.
Dion Pinkard's Journey
In just the second game of the year, Dion Pinkard's plans for his senior year and his life would change drastically. Pinkard attempted to make a tackle during Legacy's game against John Cooper School on Sept. 7, 2018, but lost his footing, which caused his right leg to contort. Pinkard suffered a torn Posterior Cruciate Ligament, a torn Medial Collateral Ligament, and a dislocated kneecap. While this injury isn't uncommon in sports, what made Pinkard's injury a threat to his leg, and potentially his life, was the popliteal artery behind the knee ruptured as a result of the leg being put in such an unnatural position.
When Dion's mother, Tonya Jones, saw her son surrounded by coaches and trainers, she wasn't aware of how serious things would become. What was at first thought of as a severe, but common, injury, Jones said that Dion's doctors realized the damage was something that they had only seen one other time. Quickly, it was understood by everyone involved that there was a small window of opportunity to save Dion's leg. If any mistakes were made, it was likely that Dion would never walk again, and to add even more pressure to the situation, the condition of the artery was so bad, there was a chance that he might not live through the night.
What makes football so special is that it is truly a team sport. It takes 11 players being fully committed to doing their job to help the team succeed. When Pinkard had success on the field, he would be one of the first to let people know that his teammates were the reason for his accomplishments. Now, with his life on the line, it's fitting that teamwork would save his leg and help him along the road to recovery.
Calm Under Pressure
The task of saving Pinkard's leg began right on the field where the injury took place. Under the guidance of team physician, Dr. Brian Chimenti, team trainers were able to get Pinkard rushed to The Emergency Center at Memorial Hermann The Woodlands Medical Center where Chimenti was instrumental in keeping Pinkard in the best conditions until Trauma Director Dr. Timothy Hodges began surgery on Pinkard's leg.
Dr. Hodges was tasked with reconstructing Dion's PCL and MCL, while also placing a metal rod in Dion's leg to stabilize his kneecap. However, the most severe issue, the ruptured popliteal artery behind the knee would require more hands to solve the problem. Hodges brought in the semi-retired, vascular surgeon, Dr. Mark Mettauer to perform a femoral popliteal bypass. To execute this procedure, Dr. Mettauer took a piece of a blood vessel from Dion's thigh to replace the artery behind the knee.
It was a long and risky surgery, but ultimately, Pinkard's leg and life would be saved. However, this was just the starting point of Dion's Journey. As of the end of March, Pinkard has had six surgeries along with physical therapy up to five times a week. Along with Hodges and Mettauer, Dr. Casey Stuhlman has played a role in the surgeries and recovery process. Stuhlman previously worked with an NFL team, the Carolina Panthers, caring for the game's biggest stars, such as quarterback Cam Newton.
Knowing Dion has been in the care of some of Texas' best doctors keeps Jones optimistic about her son's future. She's also amazed by the collective effort to make Dion's recovery a priority.
"We are so grateful," Jones said. "From athletic trainers like Mark Phillips, Dan Barnes, and Brett McCormick, both schools, the doctors, and Woodlands Sports Clinic, all are faithfully committed to Dion's journey."
Any athlete will tell you that support from family, friends, and fans can push you to higher levels of success. Players thrive off of knowing that people are behind them when facing difficult tasks. Life is no different. Pinkard's injury has brought The Woodlands community together to help Tonya and her son, Dion, get back to a normal life.
Support Is A Great Motivator
The injuries that Pinkard sustained can send a lot of people into a tough place. Senior year in high school is supposed to be an exciting time. It's a time to reflect on and celebrate your accomplishments, while also preparing for the future. No one dreams of spending their last year of high school stuck in hospital beds and doctor's offices, but Dion and his mother were blessed to be surrounded by a caring community.
"At a time when we were hopeless, so many people joined hands to get Dion to a point where his leg would fully recover," said Jones. "Their support was phenomenal."
The community around The Woodlands provided assistance in many ways, but the biggest boost came from those who were kind enough to open up their wallets and help with the rising costs of Pinkard's care. Medical expenses can be crippling, especially at a time when a family is trying to prepare for college, another expense that is far from cheap. For example, a Gofundme was created to help support the recovery process. So far, over $12,000 were raised to relieve some of the pressure off of the family.
"All the help really showed the power of this community," said Jones.
As a former college recruiter and admissions officer, Tonya has seen how injuries can derail college plans for high school athletes. After she stopped working to care for Dion, she decided to take that same power from the community that helped her and her son, and use it to help families in similar situations.
Paying It Forward
Tonya Jones is now the Executive Director of Keepers of The Promise, a non-profit organization serving, "college-bound individuals, injured athletes and families experiencing financial burdens, stress, and hardships as a result of sports fatigue and injuries."
"Many of these kids are playing injured," said Jones. "They don't speak up because they want to be back on the field, yet many of them come to me to share their regrets."
Along with providing support for injured athletes and their families, Keepers of the Promise is looking to raise awareness for sports injuries, as well as highlight the importance of education, and create paths to career opportunities.
"We want to fill in the gap created by these hardships," said Jones. "We will provide alternative resources for the community, for example, offering internships and volunteering opportunities."
April is National Sports Safety Month. To celebrate, KotP is hosting its first event. On April 20, a Sports Safety Awareness event will be held at Town Green Park during the Ironman Kids Fun Run. The event will be an opportunity to meet and speak with coaches, trainers, and health sponsors. There will also be gifts and prizes available.
For those interested in volunteering or making a donation, or if you are looking for more info on Keepers of the Promise and Dion's story, their website can be found
here
.