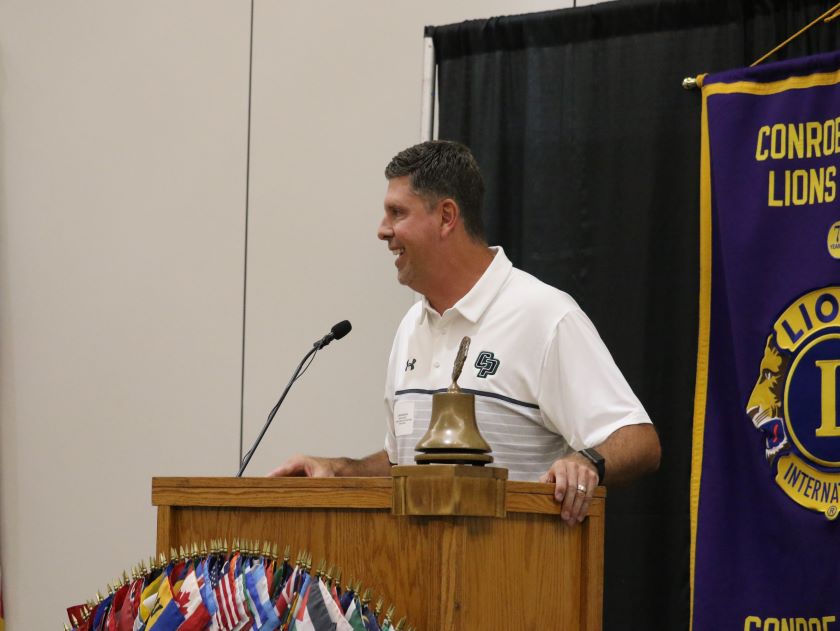 CONROE, TX -- The 44th edition of the Buddy Moorhead Pigskin Preview program was hosted by the Conroe Noon Lions Club at the Lonestar Convention Center on Wednesday, August 7. The program featured a quick message from the head football coach of each Conroe ISD high school, Montgomery ISD high schools, and Willis High School.

Each coach took about 5-10 minutes to address the current state of their program and provided insight into what their staff was expecting from this year's teams. Caney Creek's Ned Barrier, Grand Oaks' Mike Jackson, Conroe's Cedric Hardeman, College Park's Lonnie Madison, Oak Ridge's Mark Schmid, and The Woodlands' Jim Rapp were all in attendance to represent CISD. Here are notable quotes from each head coach:

Ned Barrier - Caney Creek

Despite being the head coach at Caney Creek for just three months and meeting the majority of his players last Monday, Coach Barrier isn't letting a short timetable stop him and his staff from bringing complete changes to the Panther program.

"We're changing total philosophy, offense, and defense," said Barrier. "We've been a spread [offense] at Caney Creek, but we're gonna use a tight end and fullback, and be under center a lot more."

Coach Barrier also mentioned that some players would be changing positions to go along with the new system.

"We're looking at a quarterback right now, Isaiah Mendoza, he played receiver last year," said Barrier.

Barrier is also moving around players to find tight ends and fullbacks to fit their new smash-mouth offensive system. With the skill positions in flux, Caney Creek will find strength and stability in their offensive line that will return three starters from last season (Jonathan Reyes, Mike Flores, and Cameron Barr).

Defensively, Coach Barrier plans to be more aggressive this season. Another change in the scheme will require more position changes, but Barrier expects returners linebacker Brian Fornero and safety Camden Pyle to keep the defense in check this season.
"We're putting a bunch on these kids, but they're still fired up, reacting really well to it, and really learning," said Barrier. "We're trying to bring some excitement, more numbers, and change our philosophy, and right now the kids and the community are really fired up about it."

Caney Creek opens up the season on the road at Lake Creek HS on August 30.

Lonnie Madison - College Park

Entering his third year with the Cavaliers, Coach Madison is ready to take the next step as a program. Last season, a fairly young team found themselves in close games throughout the year and just missed out on a playoff spot. This year, Madison believes an experienced group of players now know how to win those close games and will help the Cavs jump into the top four in District 15-6A for the first time since 2015.

"We've got eight starters back on defense, five on offense, and we have 29 lettermen coming back," said Madison. "We've got almost 30 kids coming back off of varsity that all played significant roles and got tons of experience. Those kids are going to be used to that situation when you play The Woodlands and its 17-17 in the fourth quarter."

Coach Madison listed the offensive and defensive lines as a team strength. The strength at the line of scrimmage should allow College Park to control the run game on both sides of the football. Madison highlighted two of his offensive lineman, Texas A&M commit Josh Bankhead and Louisiana Monroe commit Nathan Heidecker. Bankhead was recently named to the Houston Touchdown Club 2019 UIL High School Preseason Team.

CP returns the bulk of their starters on defense, including Dylan Hazen. As a sophomore, he racked up 80 tackles and seven sacks.

"He was our leading tackler as a sophomore," said Madison. "The team voted him Defensive MVP, he was a first-team All-District kid. He's "coming back with a lot of our other kids, so I do expect us to be improved from last year's team."

Coach Madison feels the Cavaliers should be a better football team in 2019 but understands that theory will be tested against their tough district opponents.

"I can tell you this, we're going to go out and give our best effort every week," said Madison. "I think you're going to see a good product on the field, and the goal is to win every single football game… College Park is in a good place right now, we're looking forward to this football season."

College Park will host Aldine Davis on August 30 to start the 2019 season.

Jim Rapp - The Woodlands

In his first season, Coach Rapp led the Highlanders to a share of the District 15-6A title and a trip to the Region II semifinal. Year two will likely be more of the same as long as The Woodlands continues to buy into Rapp's core values.

"We're excited about our 2019 football season and the Highlanders will strive to be fundamentally sound, work hard, play hard and do our job to the best of our abilities."

With eight starters returning on both sides of the ball, the second-most in the district, Rapp's squad will have strong team chemistry as they look to go on another deep run in the 2019 UIL Playoffs. The bulk of that experience will come on the defensive side of the ball.

"Defensively, each position has starters back and players that contributed in 2018, so we're excited about that," said Rapp. "Upfront, we'll be led by [DL] Caleb Fox, [DL] Simon Cruz, and [LB] Cannon Starcke. In the secondary, Carter Doucet, Kennedy Stewart, and Abb Acuff."

The thing to watch for during the preseason practices and scrimmages will be who emerges as the Highlanders QB1 for 2019. Currently, Rapp is looking at three players: Last year's back up Ben Mills, Peyton Janecek, and Cody Howard. Whoever wins the battle will be blessed with many experienced offensive options on the field with him.

"Offensively, we have a seasoned group back," said Rapp. "We have some kids that have played for three years for us, featuring our running back Bryeton Gilford, slot receiver Malik Johnson…, and two more receivers, Cole Dodson and Matthew Bulovas."

Coach Rapp was the only coach to mention a kicker during the program. Fabrizio Pinton, the Air Force commit, will be back for his senior season. It was Pinton's leg that sent the Highlanders into the third round of the 2018 playoffs. Pinton kicked a game-winning 55-yard field goal as time expired to advance past Cedar Ridge last season.

"We're really excited to have him back, he's a heck of a weapon," said Rapp.

The Woodlands will face Cy-Fair in Week 1 on August 31 at Woodforest Stadium.

Mark Schmid - Oak Ridge

When news broke in late June that former Highlanders coach Mark Schmid was returning to high school football to coach his former team's rival, most of the community was surprised. Schmid's passion for coaching was just too strong to stay away, so when he received the call about this opportunity, he was eager to return to the sidelines.

Similar to Caney Creek's Ned Barrier, Schmid is looking to rebuild the team in a short amount of time.

"I got to see a good portion of my football team for the first time on Monday when we had our first practice," said Schmid. "Today, with our in-service day at school, I got to meet some of the coaches I'll be over, so I'm getting used to my new role and my new place. I'm really excited about it."

Reshaping a program is never easy, but Schmid is up for the challenge.

"There are some big challenges, the number one challenge I face is wardrobe. I've got 30 years of green, but not much blue," Schmid joked. "I'm different than what [the kids] have had. I only know how to do it one way, and that's, in my opinion, the right way. We focus on the little things because if you don't pay attention to the little things, they become big things over time."

Coach Schmid mentioned things like being properly dressed, timeliness, and accountability as some of the main values he plans to re-teach to the program.

"The kids have responded to it and the parents have responded to it very well," said Schmid. "I'm excited about what we're doing."

The War Eagles return five starters on offense and four on defense this season. Schmid spoke on some of the players expected to have a big role in his first season with the team. He highlighted the talented group of skill players that have a chance to become an explosive offensive unit this season.

"Alton McCaskill, who's a returning running back. He's just going to be a junior and he's already got offers from Oklahoma State, Vanderbilt, and Kentucky," said Schmid. "He may be one of the most talented running backs I've ever had the opportunity to coach, so, I'm excited to be apart of his career."

At wide receiver, Coach Schmid expects Senior Adrian Murdaugh to be an impact player for The Ridge.

"Just from watching him on film, he's an explosive young man," said Schmid. "He does great things when he has the football in his hands."

Coach Schmid mentioned that finding a quarterback to get the ball into the hands of the talented skill group is their big challenge, but he believes Kavon Townsend, a former wide receiver, will be the guy to open up the offense.

"We've got a ways to go with him, but I believe that if he comes around, we can be very explosive on offense."

The linebackers will be the strength of the defense according to Coach Schmid. With three of the four returning from last season, he expects them to be all over the field this season.

"Those kids are high energy guys," said Schmid. "They're leaders, they're going to be on the field all the time."

The returning backers are OLB KC Ossai and ILBs Alex Parker and Ros Martinez. Along with returning DB Christian Jones, who will also see time on offense, these guys should make an impact for the War Eagle defense in 2019.

Oak Ridge will begin the 2019 campaign in Pearland with a Week 1 matchup against Dawson HS on August 30.

Mike Jackson - Grand Oaks

Coach Jackson leads the Grizzlies into just their second football season in school history. Grand Oaks opened in 2018 with just freshmen and sophomores, so Jackson will be taking a young team into their final season under an independent schedule before the move up to 6A football.

"We're going to compete in that district next year," said Jackson. "We're building [the program] brick by brick."
Coach Jackson was excited by the turnout at the first practice on Monday, but he understands that it isn't enough to just have good numbers, good teams develop kids.

"It's one thing to have kids," said Jackson. "But what The Woodlands has done for a long time is you have to coach kids and you have to develop them. Mark Schmid, Jim Rapp, and Pat Kennedy developed kids and we have to do that too."

With a good foundation in place, Grand Oaks upgraded their schedule for 2019 to prepare for their first season in a 6A district in 2020. Their independent varsity schedule will include teams like Sweeny, Brownwood, and 6A Pasadena Memorial.

"We have to get ready and prepare our kids to compete," said Jackson. "And our kids will compete, from day one."

Grand Oaks host Sweeny at Woodforest on August 29.

Cedric Hardeman - Conroe

Coach Hardeman began his speech with a compelling story about the Conroe community and what he has learned and discovered about them since taking over the head coaching position at the end of 2017. Then, he took his time at the podium in a different direction. Instead of highlighting his top guys like WR Michael Phoenix or DL Dominique Ratcliff, he spoke about guys who are the foundation of what the Conroe program and its community represents.

Coach Hardeman said these kids, "resemble the framework of [Conroe]." Those kids are DE Gideon Sands and QB Christian Pack.

Sands suffered a knee injury in the preseason that kept him out of action last year. Hardeman says he watched Sands show up to every game and practice during his time out with the injury and watched him rehab every day in able to be cleared to practice by this past spring.

"He didn't miss a summer workout and he'll be our starting defensive end this year," said Hardeman. "That's the essence of the program that we're trying to grow."

Christian Pack was likely going to be the starting quarterback for the Tigers in 2018, but ultimately, Hardeman made the decision to move Pack into a backup role behind a transfer player. Pack's consistently positive attitude during last season stood out to Hardeman.

"Pack responded in a great way," said Hardeman. "He didn't point fingers, he was a leader. He came out to every practice and encouraged the kid that was playing in front of him. That's the reason why Christian Pack will be a successful man and he'll be our starting quarterback this year."

With the help of guys like Gideon Sands and Christian Pack, Coach Hardeman will lead the Tigers into the Moorhead Stadium for their Week 1 clash with Mayde Creek on August 30.