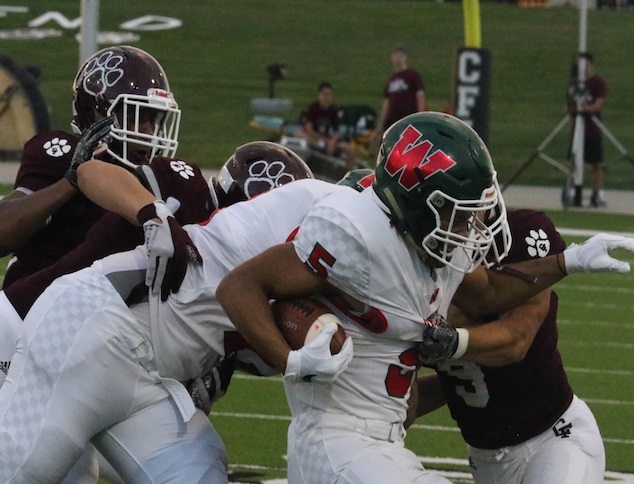 THE WOODLANDS, TX -- Woodforest Stadium will host the clash between two top-25 ranked schools in Texas 6A football. The 2016 state finalists The Woodlands Highlanders will take on the 2017 state champion Cy-Fair Bobcats this Saturday, August 31.

In a rematch of 2018's season opener, both teams will come into the Week 1 matchup looking somewhat different from last year, but both teams will still bring high expectations for the game and the season. The Highlanders and the Bobcats will look to their explosive running backs to lead the way while new quarterbacks get comfortable in their new roles. Cy-Fair's LJ Johnson and The Woodlands' Bryeton Gilford were both thousand-yard rushers last season, yet neither of them really got going in last year's meeting. Both ran for just over 50 yards in the contest, but Gilford did manage to punch in a 3-yard TD run for the Highlanders' only score of the game in the 27-7 loss. This year, both district MVP-quality backs will look to put on a show at Woodforest.

If there's one area that The Woodlands may have an advantage over the Bobcats, it will be down in the trenches. The Highlanders bring back talent and experience on both the offensive and defensive lines, including First Team All-District lineman, OL Jett Duncan, and DL Caleb Fox. Cy-Fair will have firepower on their defensive line, but the O-line will be a fairly inexperienced group. Look for the Highlanders defense to try to take advantage of that and get the offense rattled early in their first road test.

Last season's meeting didn't go well for the Highlanders. The 20-point loss was the team's largest of the season. For Saturday's game, look for The Woodlands to be determined to start better on offense and eliminate big plays on special teams, as a slow-start and a 79-yard Cy-Fair punt return TD dug the Highlanders in a big hole early on. If they can do that, a strong returning defense and the boost of playing in front of their home crowd at Woodforest could be enough to avenge the 2018 loss. Prediction: The Woodlands 24, Cy-Fair 20.

The Woodlands vs Cy-Fair will be a Woodlands Online live broadcast brought to you by Hal Watson Air Conditioning Company with replays sponsored by Memorial Hermann The Woodlands Medical Center. Kickoff is scheduled for 6 p.m.