/

/

Cooper Counselor, Visual Arts Chair Sharing Expertise, Perspectives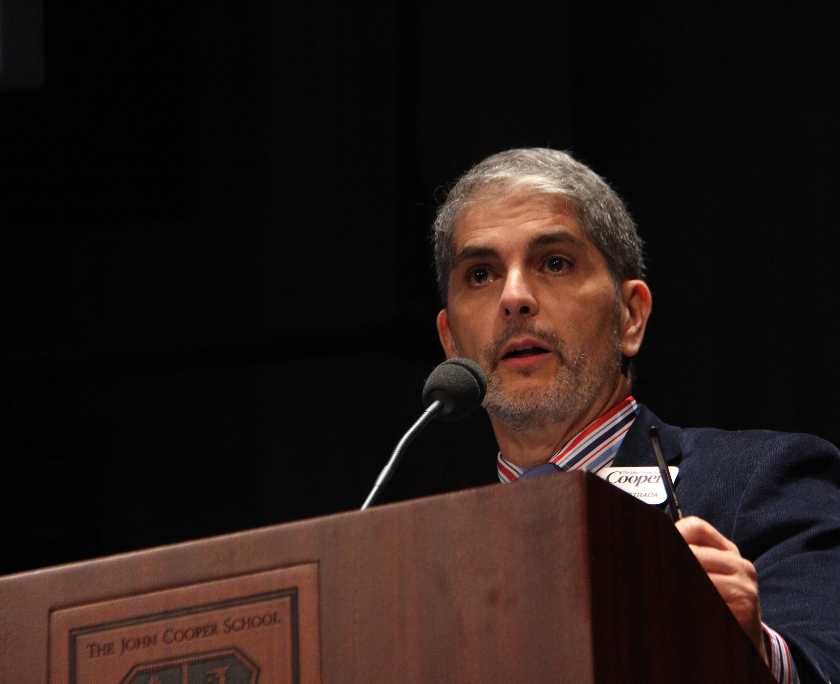 THE WOODLANDS, TX -- Dr. Diego Estrada, an Upper School Counselor at The John Cooper School, and his colleague, Visual Arts Department Chair Bob Mosier, have each been sharing their extensive expertise and training in Houston this month.

Estrada Invited as Featured Speaker on Emotional Intelligence

Dr. Estrada was invited by the Independent Schools Association of the Southwest as a featured speaker at the 2019 Deans/Student Life Director Conference that was held in Houston on September 9. Using The John Cooper School as an example of a campus that is leading the way in social and emotional learning, he spoke on the topic of "Creating Emotionally Intelligent Schools" to approximately 90 deans/assistant heads of schools from independent schools of the Southwest.

Using professional development funding provided by Cooper, Estrada trained at Yale University on "Anchors of Emotional Intelligence," along with fellow Cooper administrators Elisa Inman, Gillian Crane and Rebecca Brady. At Cooper, he presents regularly to students, teachers and parents on the tools developed by the program. Estrada is also a certified teacher of Search Inside Yourself, the emotional intelligence program developed at Google by leading experts in the field and is offering a program on the subject for Cooper faculty. In addition to presenting at the ISAS conference, Estrada was also invited to speak at Memorial High School in Houston and spoke on the topic of Mindfulness.

Visual Arts Department Chair's Work Exhibited in Houston in September

Visual Arts Department Chair Bob Mosier has had his art exhibited around the world and published in numerous books and magazines. An accomplished sculptor working in metals for many years, Mosier's most recent creations have been "thread paintings," created using a sewing machine to create 3-dimensional images. His fabric pieces are now part of a month-long exhibit being held at The Redbud Gallery located in The Heights in Houston through September. Mosier has taught art for 21 years at Cooper and 44 years total to students ranging in age from elementary through graduate level.