/

/

Space Center Houston and Boeing Engage Girls in Science Learning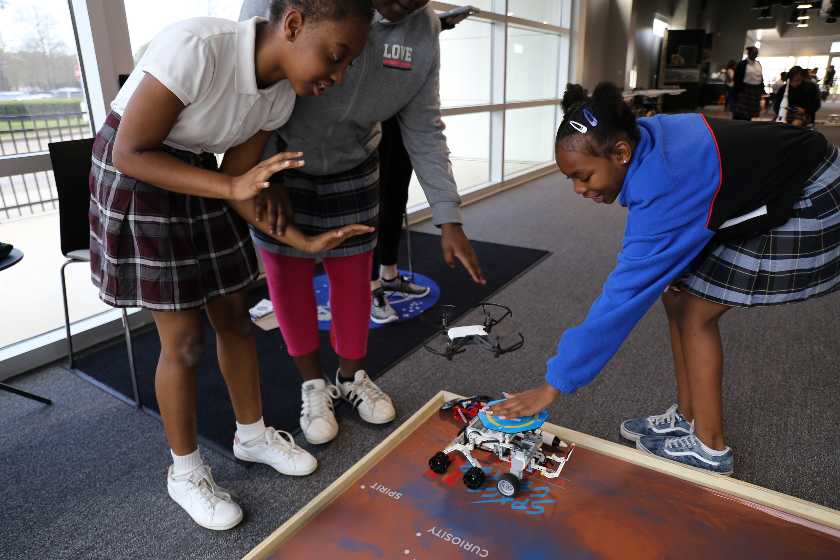 HOUSTON, TX – Space Center Houston and Boeing are pleased to announce a new Girls STEM Pathway initiative dedicated to engaging girls with 21st century skills to fuel their imaginations and provide authentic learning experiences in science, technology, engineering and mathematics (STEM) careers. Girls STEM Pathway, supported by Boeing, aims to empower girls with science learning and continued support through a comprehensive six-phase STEM network.

Space Center Houston's Girls STEM Pathway initiative provides under-represented girls access to science learning to get on the STEM pathway and encourages life-long learning.

A longtime supporter of the nonprofit, Boeing recently designated a generous grant to Space Center Houston to provide funding to establish the Girls STEM Pathway initiative, which recently launched its Women in STEM monthly lecture series. The next Women in STEM will be held on Oct. 30.

"Together Boeing and Space Center Houston are committed to enabling under-represented girls to pursue STEM careers and to realize their potential to become the next generation of explorers," said William T. Harris, president and chief executive officer, Space Center Houston. "Thanks to the generous support of Boeing, we aim to drive curiosity in young girl's minds and provide the latest tools and resources necessary to help close the gender gap in STEM."

"We are thrilled to partner with Space Center Houston to inspire the next generation of innovators to explore careers in STEM," said Mike Lawson, senior manager, Boeing Global Engagement. "As NASA prepares for a new age of space exploration, the focus on 21st century skills and experiential learning will position Girls STEM Pathway participants for success."

Through this initiative, girls participate in an introductory elementary school experience, a middle school project-based STEM experience, a summer bridge program with mentoring support and a program for high school girls to engage in authentic space challenges and scientific research. Girls STEM pathway participants will be invited back to serve as mentors and provide invaluable advice and career insight.

Each phase of the Girls STEM Pathway builds on the prior phase in hands-on STEM experiential learning opportunities that promote the development of skills with earned successes and confidence underpinning continued interest and motivation. Space Center Houston will gather extensive data throughout the program's six phases to measure its impact on participants' changes in attitudes, motivation and confidence in STEM.

Space Center Houston and Boeing have a long history of collaborating to provide immersive learning experiences for people of all ages. The nonprofit and Boeing employees work together to provide a volunteer network of female STEM professionals as role models offering mentorship support to motivate and help young girls be successful in the workforce. Additionally, Boeing stepped up to support the largest project ever for the center, the one-of-a kind Independence Plaza exhibit, providing people around the world an in-depth look at the shuttle program with access inside the original shuttle carrier aircraft, the NASA 905, and a full-scale shuttle replica.

Through hands-on, space-related exhibits and year-round education programs, the center continues to provide access for everyone to get on the STEM pathway. To learn more about the Girls STEM Pathway and the center's robust education programs, visit www.spacecenter.org/education.