/

/

Mistletoe & Melody Show at Dosey Doe November 24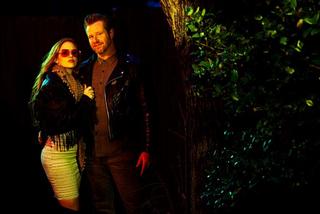 THE WOODLANDS, TX -- Guy Forsyth & Jeska Bailey will perform Nov. 24 at Dosey Doe from 7 to 9 p.m. for their Mistletoe & Melody Show.

The musical duo is as new as their debut album, "Conspirators," which was released this summer, and is nominated for Grammy Awards Folk Album of the Year, a reality that still feels dreamlike to Bailey.

"It feels not real, it feels like I'm making some weird thing up when I tell people about it," she said. "There's only been one indie label artist to actually win a Grammy so we're excited that we're nominated and we're going to ride that out until it's over," she said.

The duo met in San Angelo, Texas, where Bailey owned a blues club called Sealy Flats. She hired Forsyth to perform at the club and three or four years later the two started to date.

"Music is definitely the base of which our house stands, that's where it all started," Bailey said. "Yeah, we found true love," Forsyth added.

The rooted connection they share is evident in the intimacy of their sound, which draws from a lot of different sources: folk, blues, country, jazz, rock, and the singer-songwriter vibe that came out of California in the seventies.

"Conspirators," is an acoustic record, stripped of over-producing. "It's very much the sound of us in a room with a guitar, and that's kind of an alternative record to almost everything else you encounter in the world right now," Forsyth explained.

"All the different things that enable you to correct the pitch, and correct the rhythm so that everything is all quantitated … takes the music further and further away from the actual human experience, which is often imperfect," he said.

Their live performances are equally as pure. It's just the two of them on stage, playing the guitar, the ukulele, the harmonica, and some percussion.

"I think the live music experience is why I got into it," Forsyth said. "Because I wanted to get to enjoy the music and to share it … I love my job because if I do it right it makes people happy," he said.

Bailey noted that she feels proud of herself while performing. "It took awhile for me to even feel comfortable on a stage with six people, so the fact that I can sit up there with Guy and completely entertain people to where they're not playing on their phones, and they're watching what's happening, I really do feel like maybe I'm finally getting this … it's an alive feeling being on stage, it's a feeling of accomplishment," she said.

The husband and wife plan to perform their original songs at the show and sprinkle Christmas around it. "We're not going to dip you in sugar cookie sauce," Bailey joked. "We want to remind you what Christmas is actually about."

Forsyth added, "It's not specifically an all Christmas show and it's hopefully not going to be the same Christmas songs that you hear all through the holidays. We have original material and we also have some of these great old songs that you might not recognize, but they have a lot to say."

For ticket information, go to https://www.doseydoetickets.com/shows/652.