/

/

Young Texas Artists Wows Guests During Spectacular Kick-Off Party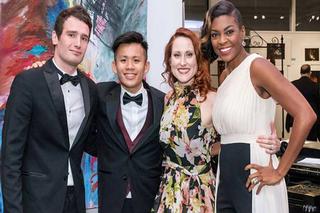 THE WOODLANDS, TX - Guests got to experience the high caliber of talent that Young Texas Artists Music Competition (YTA) draws each year during YTA's 2019-20 kick-off party, Classics At The Glade, a fabulous evening of food, art and performances by several of YTA's brightest stars.

Jade Simmons, classical concert pianist, one-of-a-kind personality and emerging artist mentor served as the emcee of the celebration, held recently at The Woodlands' gorgeous Glade Cultural Center. The evening featured stunning classical music performances by: Vocalist Grammy Award-winning soprano Jessica E. Jones, a 2012 YTA contestant who enchanted the guests with performances of Gianni Schicchi's "O Mio Babbino Caro" by Giacomo Puccini, Phantom of the Opera's "Think of Me" by Andrew Lloyd Webber, and My Fair Lady's "I Could Have Danced All Night" by Frederick Loewe; pianist Artem Kuznetsov, the 2019 YTA Grand Prize Winner and Gold Medalist in Piano presented "Toccata and Fugue in D Minor" by Johann Sebastian Bach, arranged for piano by Ferruccio Busoni; and clarinetist Zhi-Yuan Luo, the 2019 YTA Audience Choice Award Winner and a Silver Medalist performed "Untitled Work for Clarinet and Electronics," a powerful new piece by a young composer, S. Greene.

YTA President/CEO Susie Pokorski introduced the guests to Event Chairman Mimi Sadler, along with Terry Husbands Giles and Allyson Ayton who are serving as co-chairmen of Bach, Beethoven & Barbecue for the second consecutive year, and acknowledged those who made the celebration possible: "Thanks to our volunteers and community supporters the evening was a tremendous success. We're especially grateful to our major event sponsors, Dr. Douglas and Carol Aycock and Planet Lincoln," she said.

"We were delighted to be able to give guests a preview of the fun and festivities that will take place at our 2020 benefit gala—Bach, Beethoven & Barbecue—along with the amazing talent that appears during our exciting Finalists' Concert and Awards," Pokorski said. "We encourage community members to reserve their spots now for our gala and concert."

MAKE YOUR RESERVATIONS TODAY

The 2019-20 competition season will culminate in the Bach, Beethoven & Barbecue gala and YTA's Finalists' Concert and Awards on Saturday, March 14, 2020. To reserve your seats, visit youngtexasartists.org.

Young Texas Artists Music Competition, an Official Music Competition of the State of Texas, provides performance, growth and career development opportunities for exceptionally talented artists from around the world. The competition is open to classical artists ages 18-32 (ages 20-32 for Voice) who are Texas residents or affiliated with a Texas music school.

Participants compete in four divisions: Voice; Piano; Strings; and Winds, Brass, Percussion, Harp and Guitar. Professional performance opportunities and a total of $20,000 in monetary prizes are awarded.

For more information about Young Texas Artists, Inc., and sponsorship and volunteer opportunities contact Susie Pokorski at susiepokorski@gmail.com or 936-756-7017.