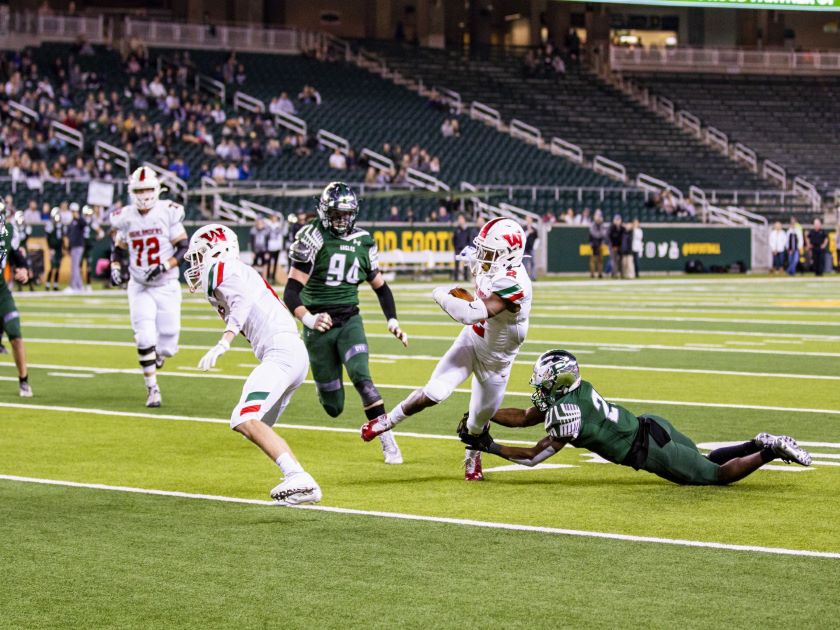 WACO, TX -- The Prosper Eagles lit up the sky and the scoreboard at McLane Stadium with their explosive passing attack on Saturday night. Eagles quarterback Jackson Berry passed for two touchdowns and ran for two more on the way to a 38-14 win over The Woodlands Highlanders in the third round of the UIL 6A-D1 football playoffs.

Prosper found the key to unlocking a good Highlanders defense, which was the passing game. The Eagles threw for 343 yards with Hayden Metcalf leading the way with 10 receptions for 134 yards and one TD. As a whole, Prosper's offense racked up 529 yards, adding another 186 on the ground.


While the Eagles offense couldn't be stopped, the Highlander offense never really got in motion. The Woodlands finished with just 157 yards of offense, 94 on the ground and 63 through the air. More importantly, The Woodlands turned the ball over four times, two of which were momentum killers for the Highlanders. Malik Johnson was the team's leading rusher with 42 yards on four carries and a 15-yard touchdown in the third quarter. Jobarre Reed scored the team's opening TD on his only carry of the game, a one-yard dive over the top of the line into the endzone.
The Woodlands Highlanders' season comes to an end in the third round for the second year in a row. The team finishes with an overall record of 8-5. The Prosper Eagles improve to 11-2 and advance to the 6A-D1 Region II Final to face the Rockwall Yellowjackets, another explosive offense led by wide receiver Jaxon Smith-Njigba. The Yellowjackets picked up a comeback win over another District 15-6A team, the Klein Oak Panthers. Prosper versus Rockwall will take place Saturday, December 7 at Allen Eagle Stadium.