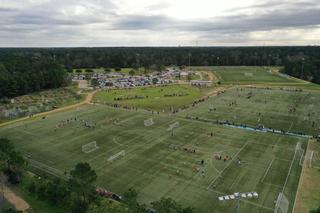 THE WOODLANDS, TX -- Record numbers were present on the opening day of the Recreational Soccer Program (north) at Bear Branch soccer complex. Thirteen hundred (1,300) players, 5,000 spectators were on site to kick-off the spring season with great weather and first class facilities.

The Recreational Program is the foundation of the club coached by volunteer coaching staff which offers programming in both the Fall and Spring seasons. One team practice & game per week, plus optional skills training along with Street Soccer. Come and join in the fun with Dynamo | Dash!

Program Benefits:

First class all-weather synthetic playing surfaces
Full-time Director of Coaching & Administration
Coaching seminars & workshops
Training / game day coaching curriculum
Volunteer coaching apparel
Free ticket to a Dynamo or Dash home game at BBVA
Participation medals
Player uniform shipped directly to your house
Team ball
Licensed referees (where applicable)
Aligned with Street Soccer (Friday) & Disability Program
Professional training session opportunities
Multiple Houston locations
Enjoy a fun introduction to soccer, skills training for players, and education for volunteer coaches.

First–class soccer facilities are located in a supervised, safe environment, and we provide full-time office support as a service to all members.

"The Recreational Program is the building block of the entire club and is a vital part of the club's developmental pathway for player development. I would like to thank all the volunteer coaching staff, players and referees in making this program a fantastic success. We look forward to working with all the players and coaching staff in the coming weeks.' Marcus Watt, Director of Coaching - Recreational.