/

/

Kroger Donates $100,000 to Texas Children's Hospital The Woodlands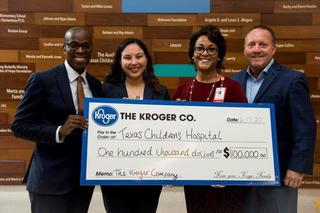 THE WOODLANDS, TX -- Kroger recently made a donation of $100,000 to Texas Children's Hospital The Woodlands. The donation will support new initiatives to alleviate hunger for Texas Children's families.

Previous work by hospital researchers identified hospital food insecurity in 43% of the caregivers of hospitalized children, which has a profound effect on their ability to participate in caring for their children during hospitalization. In response, the hospital plans to introduce a screening tool to identify families at risk for hospital food insecurity and develop an intervention bundle intended to alleviate hospital and household food insecurity in identified families.

"The Texas Children's Hospital System has been a national leader in children's healthcare for many years, and we're especially proud to have them serving right in our community," said Joe Kelley, Houston Division President of Kroger. "It's an honor to support them as they invent new ways to address the needs of families, beyond healthcare."

In 2017, Kroger rolled out the Zero Hunger I Zero Waste plan, a national effort aimed at ending hunger in the communities Kroger calls home and eliminating waste across the company by 2025. Kroger Houston has contributed to this effort by partnering with local hospitals, food banks, and community organizations to ensure that all Houstonians have access to nutritious, balanced meals.

For more information and to schedule interviews contact Chaniece Vaughns at chaniece@medley-inc.com or 281-804-9988.


About the Kroger Houston division
At Kroger, a company of The Kroger Co. (NYSE: KR), we are Fresh for EveryoneTM and dedicated to our Purpose: To Feed the Human Spirit®. We are 15,841 associates who serve customers daily through a seamless shopping experience throughout Greater Houston, Southeast Texas and Southwest Louisiana. We are committed to creating #ZeroHungerZeroWaste communities by 2025. To learn more about us, visit our newsroom and investor relations site.