/

/

CISD's Roadmap to Reopening; Recap of June 29 Live Update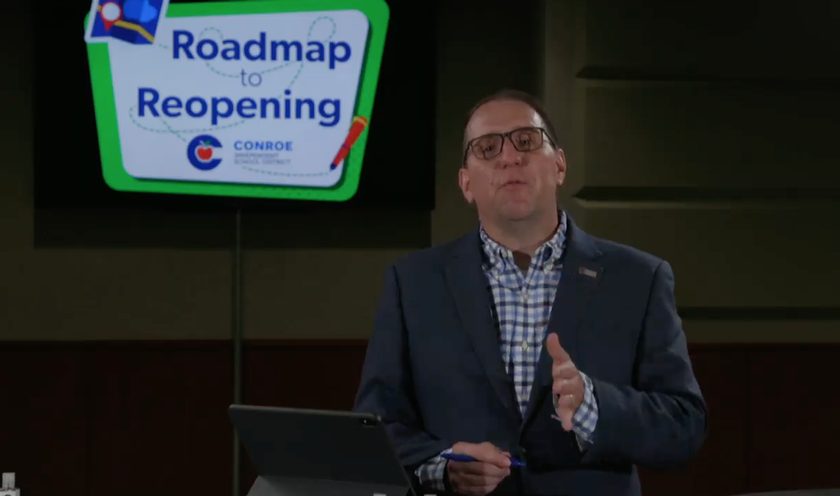 THE WOODLANDS, TX -- "We are starting school on August twelfth. Will we be face-to-face or will we be online? I don't know the answer to that question yet," said CISD Superintendent Dr. Curtis Null at tonight's live update. He provided answers, and transparency to the unknowns that still surround the 2020-2021 school year.

What is known:
- The school calendar has not changed
- Makeup days will primarily be compensated by adding minutes to future school days, as opposed to extending school days into the summer
- TEA announced that online instruction will be available for this school year, as of right now, parents will be able to choose if they would like their children to do online learning or face-to-face
- Online instruction will be much more rigorous than it was in the spring. It will be, "a full slate of all the curriculum, all the assignments, with the same grading policies that face-to-face learners have." Secondary students can expect to work for four hours a day on coursework, and elementary students for at least three. Attendance will be taken everyday (students must complete 90 percent of the school days in order to gain credit for the school year)
- Interruptions to classes and services are expected
- Campuses will be cleaned with e-misting machines every night, and buses will be cleaned the same way

What is unknown:
- TEA and Governor Abbott have yet to give permission for face-to-face learning in August
- If UIL events will be allowed or not
- Whether or not students will have to wear face masks at school
- The state's exact timeline for release of further information

Steps moving forward:
- It is speculated that the state may give more information July 10, if that is true, CISD will release it to the public on their website as well another possible live update
- CISD will continue to plan for all scenarios
- CISD will continue to build the online model to ensure their students and staff are prepared
- CISD will continue to buy cleaning supplies, and technology for students who may not have access to proper technology needed for online learning

"It's not just about opening the school year on August twelfth, it's about not having to close the school year on August twentieth," Dr. Null said. "We're going to stay measured, we're going stay on time with our decisions and not try to get too far in front of ourselves where we have to backtrack constantly, but we're never going to lose the focus that the safety of our 66 thousand kids and 85 hundred employees is paramount."

Click here to watch the full June 29 live update on YouTube.