/

/

Milstead Automotive Welcomes New Sales Manager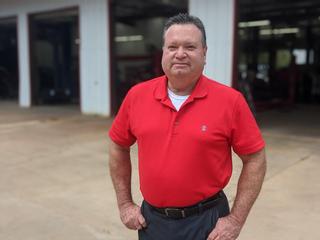 THE WOODLANDS, TX -- With 35 years of experience in the automotive repair industry, Brad Martin brings expertise and knowledge to the service team at Milstead Automotive.
Brad grew up in the Texas City area and graduated from Texas A&M with a bachelor's in business management. With multiple customer service awards, Brad strives to help and serve all those he encounters.

What is your experience in the auto repair world?
BRAD: I have over 35 years of experience in the automotive industry. During that time, I have learned a lot. I can overhaul an engine to tire repair to maintenance.

What is your specialty when it comes to auto repair?
BRAD: I was in the brake and suspension business, the repair business, the engine tune-up business, and the tire business, so bumper to bumper. I have skills and knowledge in all of those, and I also have ASE certifications.

What are you most excited about at Milstead Automotive?
BRAD: In 1985, I meet Dick Milstead when he only had three wreckers. Since then, I have watched his business grow to where it is today. They are a great team, and they have been here almost 50 years now. They know the community and have earned the trust of the neighborhood. Everyone should come to see us. That is why I am excited to be here.

How can you help customers?
BRAD: I plan to help people with their oil changes and scheduled maintenance and keeping them on schedule so their cars can run newer, longer. That way, they would not have to have unneeded repairs, and we would know ahead of time of any needs they may have. So, I hope they come to see us because we can help them with the big stuff; engines, transmissions, but we can do anything. We're one of the only shops in the area that can do about anything with any car.

What do you hope to bring to the team?
BRAD: I hope to bring knowledge and experience. And not only that but the 35 years I have was in this area of Spring, so I hope all of my customers that have known me and know me, come and see us. We'd love to serve them.

About Milstead Automotive and Milstead Collision
For over 48 years, Milstead Automotive has been proudly serving The Woodlands and Spring area. CEO and founder Dick Milstead started the company in his 2-car garage and grew the business with the help of his family. Now with 29 bays and two locations, The Milstead Automotive and Milstead Collision team continues to grow and dedicate their time and service to the community. Milstead Automotive also has the largest fleet of towing and recovery vehicles in Montgomery County with 24/7, 365 days a year dispatch. The company offers services for RVs and commercial vehicles, as well as mobile fleet repair. The company and its president, Amy Milstead, are devoted to causes and charities throughout the community and state. For more information, visit www.milsteadautomotive.com or www.milsteadcollision.com or follow us on Facebook @milsteadautomotive or Instagram @milstead_automotive.