/

/

Burn Ban Lifted for Montgomery County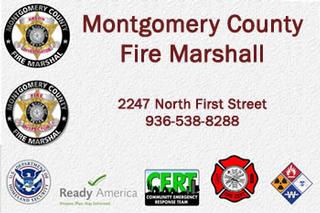 MONTGOMERY COUNTY, TX - For most of the summer, a lack of rainfall led to moderate drought conditions across southeast Texas, including most of Montgomery County. While recent tropical rainfall eased drought conditions in the eastern part of the county, much of the northern and western portions of the county missed out on rainfall associated with Hurricane Laura, forcing officials to keep the County Burn Ban in place. In recent days those areas finally received some rainfall, improving conditions to the point where a burn ban order is no longer needed in Montgomery County.
Recent rainfall has provided much needed moisture across Montgomery County, most burning remains prohibited year-round.
Effective today, the burn ban has been lifted in Montgomery County. This only effects burning that would normally be allowed under state law. Commercial refuse may not be burned at any time, and residents may not burn household refuse in subdivisions or on less than 5 acres of residential property. Residents in unincorporated areas of Montgomery County may burn limbs and leaves picked up on their own residential property. The material cannot be brought from another location. All other burning is prohibited at all times by applicable laws and environmental regulations.
Under State Law, land clearing debris may not be burned on the surface of the ground in Montgomery County. Land clearing debris must be taken to a state permitted landfill, green waste recycling facility or disposed of by a properly permitted contractor, utilizing an Air Curtain Incinerator in accordance with state air quality regulations.
While conditions have improved, residents are urged to consider other alternatives to burning and cautioned to remain with their fire at all times if they do choose to burn. During a typical wildfire season, the vast majority of fires are the result of human activity, with outdoor burning responsible for as much as 90% of all wildfire starts. Anyone who starts a fire and recklessly damages another's property can be charged with a crime. Residents burning household rubbish in subdivisions or on less than 5 acres can also be cited for a Class C Misdemeanor.