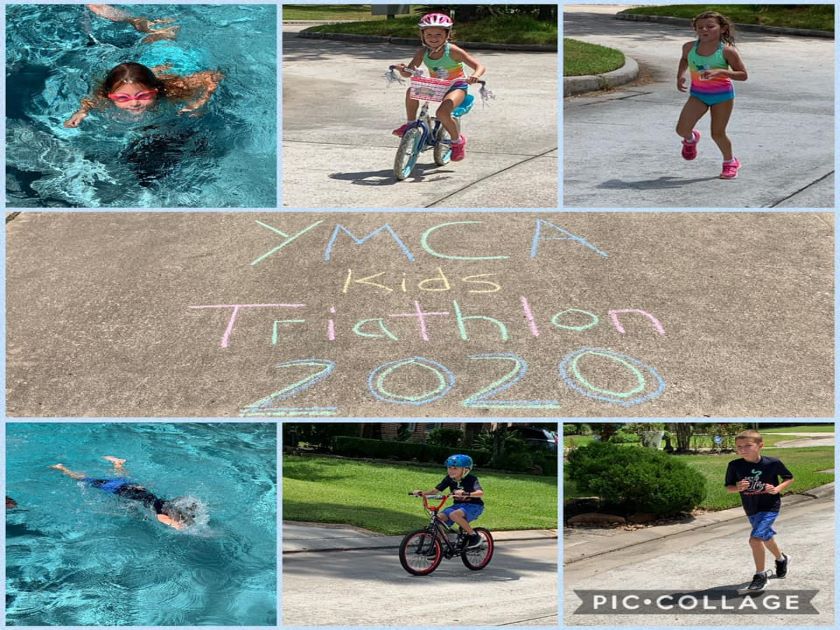 THE WOODLANDS, TX -- Like many events scheduled over the last few months, COVID-19 threw a wrench into the plans for the 2020 The Woodlands Family YMCA Kids Triathlon. Instead of postponing or canceling the event, YMCA made the decision to host the event virtually, and that decision is continuing to pay off.

"Virtual Racing is basically like running a traditional race with tons of other people…just not all at the same place," says the YMCA event page. "No crowds, no waking up at dawn to find parking and rush to get to the start line on time, no worrying about bad weather at race time. The same friendly competition, t-shirts, medals, finish line selfies, and results - only you pick the route, time your performance, and report your results!"

Roxanne Davis, The Woodlands Family YMCA Community Liaison Director said continuing with the event virtually was important because it will keep families engaged and looking forward to something positive. It also raises funds to support camps and other important community programs.

"The Kids Triathlon is a charity event," said Davis. "Proceeds benefit the Y Annual Campaign, which ensures everyone, regardless of age, income or background, has the opportunity to learn, grow and thrive at the Y. These events provide an opportunity for the Y to create awareness and educate our community on the Y's mission and cause."

While nothing would have been better than having the event take place normally, the virtual kids' triathlon actually created an opportunity for families to spend quality time together in a safe and creative environment. Families created their own courses and found fun ways to cheer and encourage their children on their race days.

Valerie Byers says her six-year-old daughter, Samantha, had a lot of fun with the entire process of planning and running their family-made course.

"Samantha's older brother, Will, had participated as an adaptive triathlete in the YMCA Kids Triathlon for the past 3 years," said Byers. "She has loved watching and cheering him on and was very excited to be old enough to participate herself this year. She's a runner with The Woodlands Run Club-Juniors and a swimmer with our neighborhood team, so becoming an official triathlete was a big goal of hers."

Valerie said that the virtual kids triathlon gave Samantha something to be proud of and that she really enjoyed the surprise of seeing neighborhood friends cheer her on with signs along the bike course.

"These small elements really excited her and gave her a race day feel," said Byers.

Dawn Spoljaric and her two kids Vincenzo (9) and Lucianella (6) also participated in the event. Dawn said it was important to go through with the event, even though it was virtual because she wanted help break a cycle of bad news.

"Children have been dealing with a series of closures and postponed events since March 2020," said Spoljaric. "We knew we had an opportunity to demonstrate that while there are many things we can't control during these unprecedented times, we can always control our attitude. With a positive attitude, we are virtually unstoppable."

Dawn and the entire family got involved to make Vincenzo's third race and Lucianella's first race a memorable experience.

"We had 'Eye Of The Tiger' playing on a loop in the backyard to begin the swim and ice-cold rocket pops in the freezer at the finish line," said Spoljaric. "The kids helped draw an official finish line with chalk in our driveway as well. We had an official timer and a neighbor came out to help cheer the kids on for the bike and run course that circled our neighborhood."

Many families have had positive reviews on the event according to Roxanne Davis.

"Parents have been very appreciative of our efforts and the great work we do in the community," said Davis. "Registration for the event began prior to Covid. The majority of those registrations have remained loyal and engaged with us once we made the decision to transition to Virtual in 2020, and more registrations are coming in daily."

Events may not go as planned in 2020, but the YMCA Virtual Kids Triathlon highlights how we can still make this a fun year for everyone as long as we have a positive mindset and are willing to be creative.