/

/

Montgomery County Crews Heading Home from California Wildfires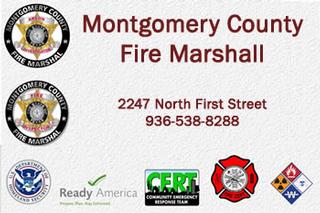 THE WOODLANDS, TX - Montgomery County Firefighters assigned to the Creek Fire and the August Fire Complex will be flying home Tuesday evening after working for the past two weeks on the front lines in the California firefight. They will be flying home courtesy of Southwest Airlines as the Texas based airline is providing two charter flights to carry their replacements to California Tuesday morning and then return the weary crews home that evening to airports across the state.
16 Local Firefighters Headed to Take Their Place on the Fire Lines as California Endures Record Wildfire Season
While Porter Firefighters have spent much of their time at the August Complex of fires in the northern half of the state, the rest of the Montgomery County crews formed a strike team assigned to the Creek Fire in the Sierra Nevada mountains east of Fresno. Strike Team 143 was made up of units from the Caney Creek, Conroe, Needham, North Montgomery County and South Montgomery County Fire Departments.
California is currently in the midst of a massive fire season, with 6 of the largest fires in the State's history occurring in 2020. The August Complex of fires near the Mendecino National Forest is currently at 873,000 acres and 43% contained, while the Creek Fire is over 300,000 acres, making it the largest single wildfire in state history. The Creek Fire is currently estimated to be 39% contained.
14 local Firefighters will be flown along with 30 others from the Houston area and 69 from Dallas and the Panhandle and will check in Tuesday, before hitting the fire lines Wednesday morning. Two additional Wildland Firefighters from the South Montgomery County Fire Department will be part of a crew manning a Wildland Engine from the New Waverly Fire Department. That unit and its crew will be traveling to California to replace a similar unit from the Amarillo Fire Department that is rotating back home.
Specialized firefighting units like these are deployed to disasters like this through the Texas Intrastate Fire Mutual Aid System, or TIFMAS. The program is managed by the Texas Division of Emergency Management and reports to the Governor. TIFMAS team members have unique training, equipment and experience and are routinely deployed throughout the state for Hurricanes, flood events, wildfires and other disasters TIFMAS teams can be requested by other States through the Texas Governor's Office.
This is the second fire season where local firefighters have been sent to the west coast. The costs for these deployments are reimbursed by the requesting jurisdictions and are not borne by local taxpayers, however the specialized training and experience gained by our firefighters is invaluable and helps improve local public safety efforts.