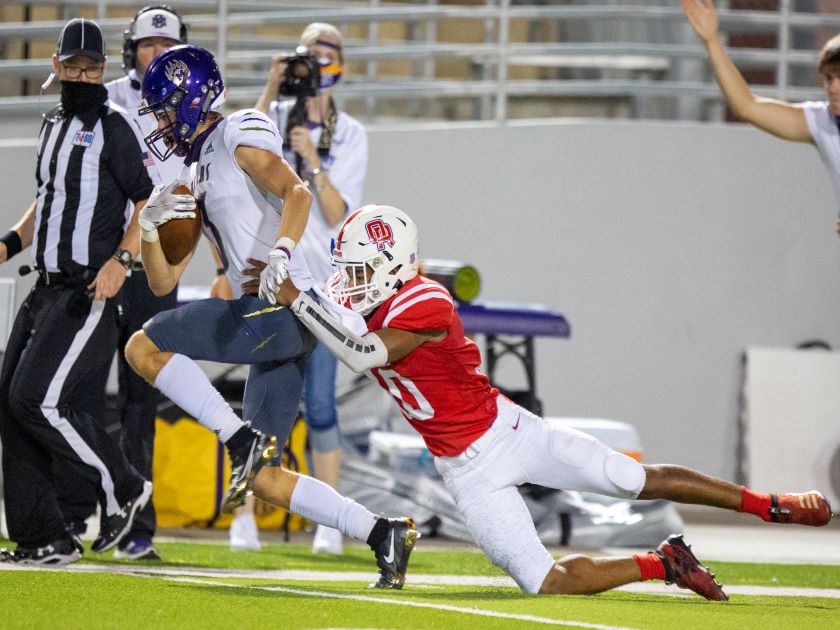 THE WOODLANDS, TX -- In the final non-district game for both teams, the Montgomery Bears came into Woodforest Stadium and knocked off Oak Ridge, 38-13, to give the War Eagles their first loss of the season.

Montgomery opened the scoring with a 99-yard pick-six by DB Josiah Gaetani to cancel what looked to be an impressive first drive for the War Eagles. That play swung momentum in the Bears' favor and set the tone for what was the theme of this game. Too many big plays were made by Montgomery for Oak Ridge to find a way back into the game. Offensively, Oak Ridge struggled to complete drives, and the War Eagles defense that had been so good through three games had issues with tackling and missed assignments all night long.

After Oak Ridge WR Camden Morgan found the end zone on a 17-yard jet sweep, the War Eagles followed it with an extra-point mishap, then allowed Montgomery RB Jalen Washington to break off a 67-yard TD run to give Montgomery control of the game once again. Montgomery added a field goal to take a 17-6 lead into halftime.

Oak Ridge trailed at halftime for the first time this season, but the deficit was manageable if the War Eagles could clean things up in the second half, however, the same issues continued to plague the team.

The War Eagles gave up an 18-yard TD pass to Montgomery WR Jaden Bradley on third and long, allowing the Bears to extend their lead to 24-6 with 3:20 left in the third quarter. A Montgomery muffed punt recovered by Oak Ridge gave the home team a jolt of energy they desperately needed. The Ridge cashed in on the opportunity with QB Steve Smedley's TD pass to Jaquale Harrison with 1:47 to go in the third quarter. A fumble on the ensuing kickoff was recovered by the War Eagles and it seemed like the comeback was on, however, the Bears defense came up big to force a punt on the next drive.

Early in the fourth, the Bears were backed up inside their own five-yard line. On third down, a busted coverage in the Oak Ridge secondary once again allowed a big play to get the Bears out past midfield. The Bears came up big on third down once again later in the drive when WR Jacob Sandegren scored to essentially put the game away. RB Ben Smith's 15-yard rushing TD in garbage time put the finishing touches on an impressive road win for Montgomery.

Oak Ridge takes a 3-1 record into the bye week before opening their district schedule against Conroe on October 29.