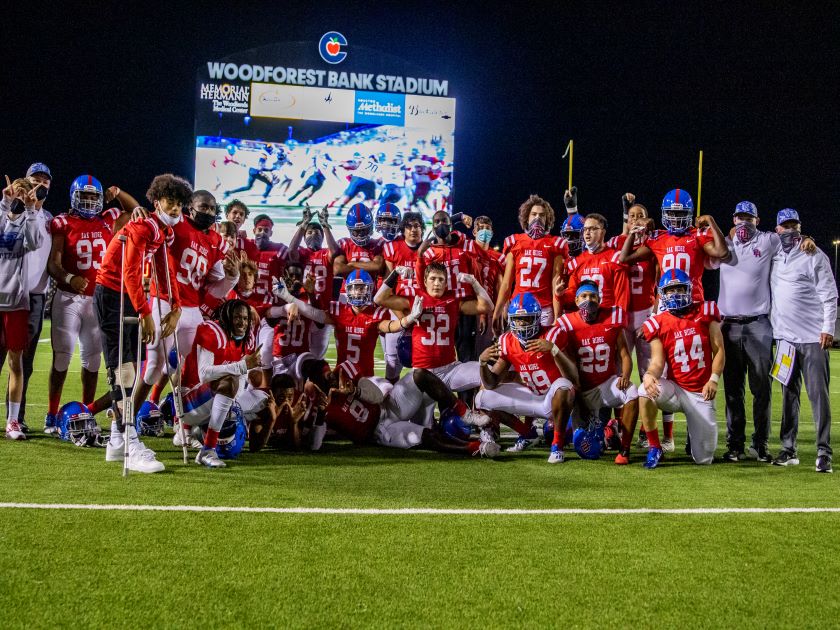 THE WOODLANDS, TX -- The last time Oak Ridge won a playoff game, most of the roster hadn't been born yet. This group of War Eagles made history by winning the school's first playoff game since 2002. The Oak Ridge War Eagles came back twice to defeat the Eisenhower Eagles 30-20 in the bi-district round of the UIL 6A DII playoffs.

In order to pick up the round one victory, The Ridge first had to erase an early two-score deficit in the first half. A sleepy start had the War Eagles trailing 14-0 after the first quarter. On the first drive of the game, Oak Ridge QB Steve Smedley was picked off in Oak Ridge territory. The short field set up Eisenhower QB Ryan Niblett's 17-yard touchdown run to open the scoring.

Oak Ridge struggled to move the ball on their second possession and was forced to punt right back to Eisenhower. Ike completed a deep pass on third and 17 to flip the field and enter the red zone. It would lead to Niblett's second rush TD of the night.

Stopping the Oak Ridge run game is a test for defenses, and Eisenhower was passing the test early on. So, Oak Ridge decided to change the questions and test the Eagles secondary through the air. Smedley connected with WR Scott Hickey on a big play to pick up the first down and put Oak Ridge in Ike territory for the first time. The passing game stayed hot as Smedley hit RB Jahron Jonas on a slant that Jonas turned into a 30-yard touchdown. Oak Ridge added a two-point conversion to make it a 14-8 game midway through the second quarter.

After the War Eagles defense forced Eisenhower to punt, Hickey torched the Ike secondary once again to set up Smedley's second TD pass of the night. Smedley and RB Alton McCaskill linked up on a short TD pass to take a 15-14 lead at the half.

Eisenhower bounced back late in the third quarter to retake the lead. RB Waymon Finley split the defense and bounced off defenders on his way to a nine-yard rushing touchdown.

Although they struggled to move the ball on the ground early, McCaskill, Jonas, and the War Eagle offensive line finally began to wear down Eisenhower in the second half. After Jonas put the War Eagles on the two-yard line, McCaskill trucked his way into the end zone to once again put The Ridge in front at the start of the fourth quarter. Jonas put the finishing touches on the win with a diving TD on a 7-yard run later in the quarter.

Coach Schmid's squad improves to 6-4 overall and will play Tomball Memorial in the area round of the UIL 6A DII playoffs.