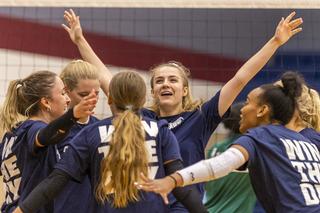 The Woodlands, TX -- College Park High School volleyball kicked off the season with a scrimmage against Spring and Tomball. There are no refs, no scores, and minimal coaching, so there is non-stop play for 30 minutes testing the condition of each team. Without knowing the score the players are forced to focus more on individual skill as well as teammates to score.
College Park of the Woodlands Hosts Local Volleyball Scrimmage
The Lady Cavs, Coached by Candice Collins Gibson, came out strong in their first scrimmage against Spring High School and it was apparent that this is a team to watch this year. Their communication and overall skill seemed like they have been playing together for years and it only improved throughout the scrimmage.
Ending the night against Tomball, again they were dominant with many blocks and kills. As the night went on, College Park warmed up and became more of a single unit making plays and blocking any attack from Tomball. College Park is poised to make a huge run in the playoffs in hopes of winning a state championship.
Pre-District
The Woodlands College Park Volleyball Team | Lady Cavs
Opponent: Tomball High School
When: Tuesday, Aug. 10th | 5:30 PM
Where: College Park High School
District
The Woodlands College Park Volleyball Team | Lady Cavs
Opponent: Grand Oaks High School
When: Tuesday, Sept. 21st | 5:30 PM
Where: Grand Oaks High School