/

/

HFG Wealth Management Announces 2021 Five Star Wealth Managers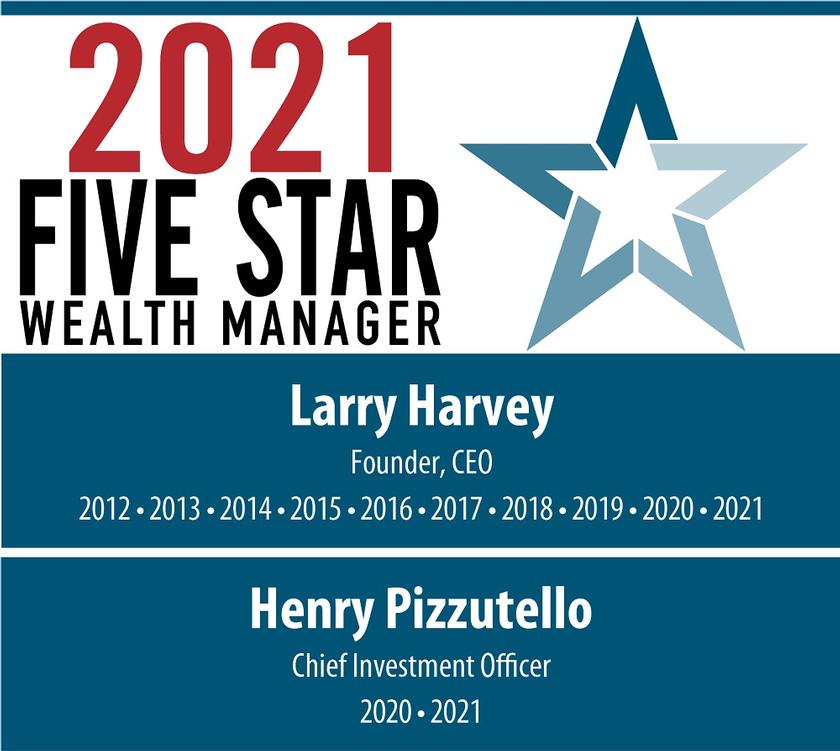 THE WOODLANDS, TX -- HFG Wealth Management, an independent, family-owned wealth management firm, announced Founder and CEO, Larry A. Harvey received the 2021 Five Star Wealth Manager award by Five Star Professional. This is the tenth year in a row Five Star Professional has recognized Mr. Harvey with this award. In addition, Five Star Professional has honored Henry Pizzutello, Chief Investment Officer, with the coveted Five Star Wealth Manager award.

"It's not only a great honor to be recognized by Five Star Professional for the tenth year in a row," said Mr. Harvey, "but to have an additional employee at my firm also be acknowledged is a blessing. HFG has been fortunate to serve our clients in a way that they truly deserve. I look forward to our continued team growth and helping more individuals, families, and small businesses achieve their financial objectives. Our team truly is committed to placing our clients' best interest first and providing outstanding personal service," Harvey said.

Mr. Harvey is a Chartered Financial Consultant (ChFC), an Investment Advisor, and planning consultant with over 35 years of experience. He started HFG Wealth Management in 2008, and provides comprehensive wealth management strategies for clients nationwide.

The Five Star Award program candidates are evaluated against ten objective criteria to determine the Five Star Wealth Managers in more than 40 major markets. The Five Star Wealth Manager award process includes nominations by wealth managers, financial planners and advisors, CPA's, and estate planning attorneys. Participants in the survey were asked to evaluate only those wealth managers they knew through personal experience and rated that individual according to criteria such as integrity, service value for fee charged, and quality of recommendations. The Five Star Wealth Manager Award is given to less than three percent of the Houston market wealth managers. The award recognizes service professionals who provide exceptional, quality services to their clients.

For more information about HFG Wealth Management, please visit www.hfgwm.com or call 832.585.0110.