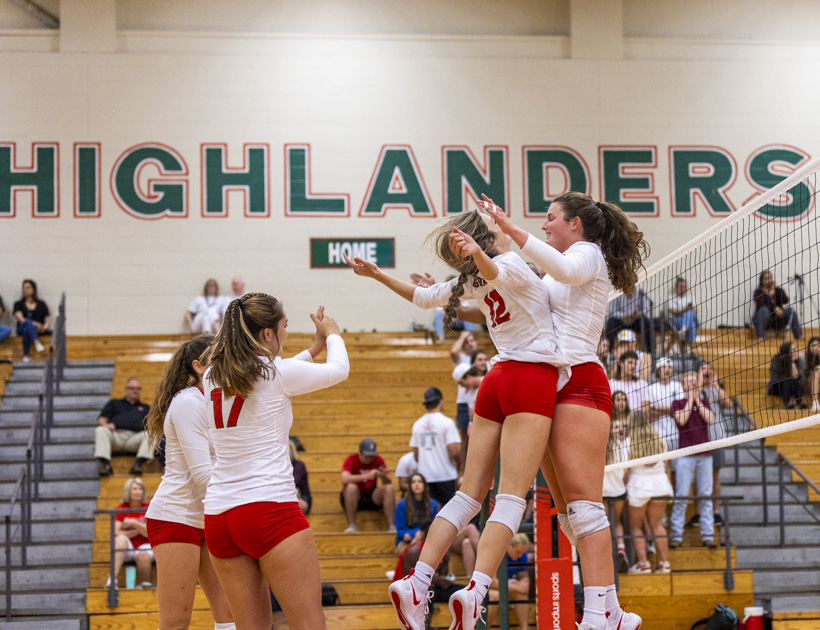 THE WOODLANDS, TX -– The Lady Highlanders hosted the Lady War Eagles of Oak Ridge Tuesday night for a 13-6A district match at the Woodlands High School. Fresh off a win against Conroe, the Lady War Eagles were trying to keep the momentum up and come out with another victory. The Woodlands had the advantage of being at home and also fresh off a win against Willis.

The first set started off slow, seemingly like they were just practicing but this was the actual game play. Highlanders came out and dominated the serve and which gave them a great setup for kills. The War Eagles responded with everything they had but were unsuccessful. Every attack from them was shut down by the Highlander's defense. They played slow but consistent while Oak Ridge struggled to put points on the board.

This continued into the second set but the War Eagles seemed to be getting increasingly frustrated so balls were missed, or hit out of bounds. The serve was also an issue for the War Eagles, in which many of them were missed or not returned. Once again, the Woodlands held Oak Ridge to a low score, just ten points.

The last 2 sets were a bit of a disappointment for the Woodlands, as they began to play extremely sloppy. "Things just got slow, I feel like we might have gotten a little comfortable and take off a little bit," said head coach of the lady highlanders, Terri Wade.


Oak Ridge stays alive in set 3. 26-28. pic.twitter.com/XxP03QaVBv

— Woodlands Online Sports (@WOLsports) October 13, 2021
She continued to explain, "it was important that we take away from this game that we're really focusing on playing consistent through all six."
Oak Ridge stays alive in the 3rd set but fell to The Woodlands in 4 total sets. The Woodlands travels to Grand Oaks High School to take on the Lady Grizzlies. Oak Ridge returns home next Tuesday to face Willis.
Woodlands takes the win from Oak Ridge
3-1. @TheRidgeVBall @TWHSVolleyball pic.twitter.com/GtY3g4cwr2

— Woodlands Online Sports (@WOLsports) October 13, 2021
The Woodlands vs Grand Oaks
When: Friday | 10/15, at 5:30 pm
Where: Grand Oaks High School
Oak Ridge vs Willis
When: Friday | 10/15, at 5:30 pm
Where: Oak Ridge High School