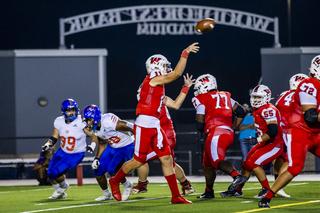 THE WOODLANDS -– While the Lady Highlanders are trying to give the Lady Cavalier Volleyball team their first win, we have The Woodlands Highlanders trying to keep their win streak going by knocking out Grand Oaks football team. With an exceptional non-district season, the Grand Oaks Grizzlies fight their way in this tough 13-6A district to get their first district win of the season.

Unfortunately for Grand Oaks, The Woodlands came out swinging and like the weeks before showed why they are the dominate team in the district. Alongside Mabrey Mettauer, JoBarre Reed is his go to target and many defenses have a hard time stopping this five-foot seven running back. Once he gets hit, he continues to grind and keep his footing to break the tackles for extra yards. There are also other targets which are Evan Dubin as well as Ben Ferguson who can break away from the defense and make some huge plays.

The first half of the game was all the Highlanders which was predicted by many after seeing the Grand Oaks Grizzles in their first 2 district games. Unlike last week this time the Highlanders controlled the offense and defense making little to no mistakes as the game progressed. Although the Grizzlies forced a fumble in the redzone they couldn't capitalize so instead they punted it away. The Highlanders shut out the Grizzlies in the first half 21-0.


It wasn't all bad for Grand Oaks, as they came out in the second half, they brought the intensity and started to own their possessions. Coming off a non-district season like they had, unfortunately doesn't prepare them for the dominate forces in their division. Luckily, they saw some light at the end of the tunnel and took it to the house on a few drives. At this point the Woodlands already established a big lead but Grand Oaks didn't want to get shut out and made an end of the game run forcing turnovers and even sacking the quarterback. Their intensity, although late in the game, showed that there is signs of Grand Oaks becoming a big force in the district. The Highlanders win the game 49 – 20, while their volleyball team falls to College Park 3-1 and the Astros win the ALCS in game 4.
The Woodlands is set to play Conroe on Friday Oct, 29 at Moorhead stadium and Grand Oaks is to face Willis at Woodforest, Thursday, Oct 28th.
College Park 48, Conroe 14.

College Park secures win against Conroe at the half. Watch the Game here: