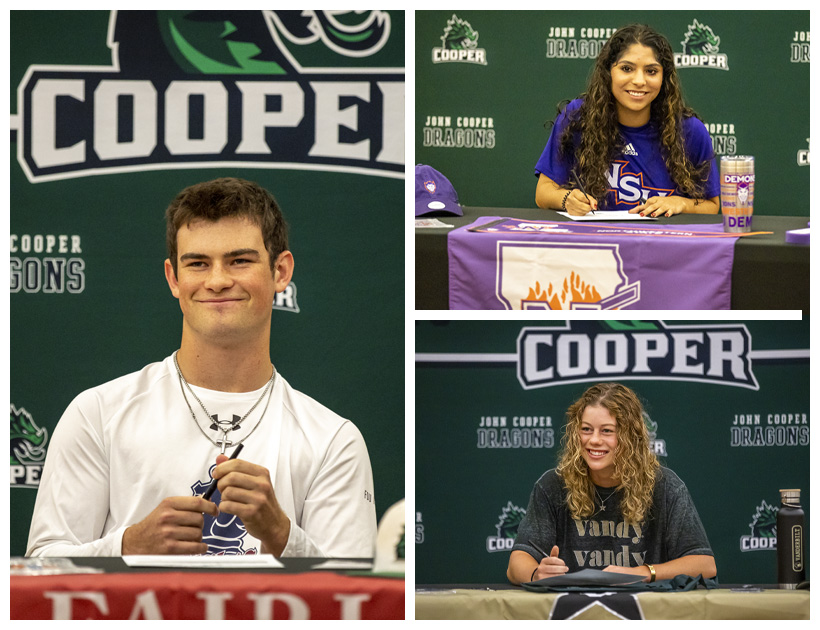 THE WOODLANDS -- Kids graduating from high school sometimes don't know what they want to do with their lives. It's not until they are in college or about to leave that they have somewhat of a path. For student athletes one thing is on their minds, being the best in their sport to hopefully go pro one day. For many it starts when they put their jerseys on but for the rest reality hits when they sign that paper to commit to a major college. Many schools like John Cooper host these events because it's an important next step for these athletes.

Tillie Claggett with John Cooper Golf officially signed to Vanderbilt University in Nashville, Tennessee. "It was my first pick…I'm really excited about it because it was everything that I could have imagined." She continued, "I'm going to miss them [parents] for sure. But I mean, I think they raised me well enough that I'll be able to be independent on my own."

As her parents looked on, they couldn't contain their emotion as their daughter signed up for the next part of her life. Going to such a big school it intimidating and somewhat overwhelming and takes a strong-minded student to get through the tough times. When asked what advice she give her daughter Mrs. Claggett said, "She's already there. I have no advice for her because she does it better than I could."

The next committee was Laura Weatherford with the Lady Dragons Volleyball team. She officially committed to Northwestern State University in Natchitoches, Louisiana. Her parents are ecstatic about their daughter's commitment to a D1 school. Her mother said, "We're very excited, she has always wanted to play for a division one school and this has been a dream of hers to be able to go to the next level." She continued, "I probably would tell her that obviously we love her and we want her to have a great college experience."

Finally, Blake Pitts, multi-sport athlete and signing to Fairleigh Dickinson University in Teaneck, New Jersey for Baseball. "I chose FDU because it's an amazing school. They have a great business program and the head coach there is an awesome guy," said FDU committee Blake Pitts. He is looking forward to, "the change in weather because its so hot down here. And also, just playing for Coach DiToma again, he's an amazing guy."

His parents also had something to say about this emotional day and next step in their son's life. "Obviously we are both proud of him but I'd call it perseverance because he didn't project as well as a bigger player would have and he's made it to a D1 school so we are really proud of him."

As their next chapter starts each of the committees have some huge shoes to fill in their respected schools. The next steps are easy but maintaining, learning and getting better in their sport are somethings each of them have to face head on.