/

/

Blue Oyster Cult's Eric Bloom talks about band's 50th Anniversary and their Nov 30 concert at Dosey Doe The Big Barn
Blue Oyster Cult's Eric Bloom talks about band's 50th Anniversary and their Nov 30 concert at Dosey Doe The Big Barn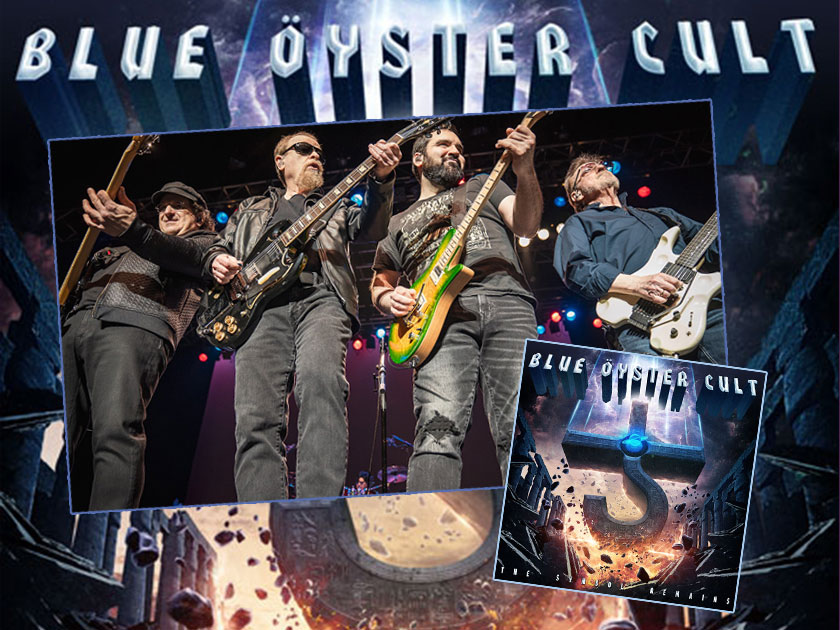 THE WOODLANDS, TX – Legendary rock band Blue Oyster Cult will be performing at Dosey Doe Big Barn on Wednesday, November 30. Don't miss this unique opportunity to hear one of America's foremost rock bands play at what many have called the most acoustically sound music venue in the country. BOC is celebrating 50 years of the launch of their first album, the eponymous, Blue Oyster Cult, and, judging by past performances, guests are in store for a wonderful evening of rock music like no other.

Click here to purchase tickets to the Blue Oyster Cult, November 30 Concert at Dosey Doe

We sat down with Blue Oyster Cult's co-lead vocalist, guitarist, and keyboard/synthesizer player, Eric Bloom, to talk about the band's anniversary, their influence in the music industry, and what to expect at their Dosey Doe concert.

Your group's sound and innovation have influenced so many other rock bands over the past 50 years. Originally, wasn't your group called Soft White Underbelly before settling on the name, Blue Oyster Cult?

"Yes. And there were a few other interim names, as well. Some names lasted from a week to a couple of months. There were a lot of other different people in the band here and there. And they started off basically as a band that just used to jam together. Different people came in and came out. It started on Long Island, about 1967, and basically, some guys just jamming and camping in a house on Long Island. A guy named Sandy Perlman who went to Stony Brook University heard some guys jamming in a house and said, you know, I have some connections in the music business and I think you guys could be a band. He is also the guy that came up with the name 'Soft White Underbelly' for the band. Different people came in and out of the band at that time and around 1969 I was added to the band. The band had a record contract and things but that deal fell through and about 1971 we got an audition with Clive Davis at Columbia Records. That's the record that was recorded and came out in 1972. And that's where we get the 50 years from."



Did you ever think that the song, Don't Fear the Reaper, would gain so much popularity?

"I get asked that all the time. And it's because you have a feeling, but really never know how big it is going to be. When Buck wrote that song, it was sort of a personal song for him. And you never know what's going to be a song that's going to last. That song gets played on classic rock radio every day. And of course, there is the cowbell sketch on Saturday Night Live. We never could have predicted that. From 1976 on an album until 2022 Today, it still gets played every day on classic rock radio and is the number-one sketch ever in the history of SNL. "



You produced a new album called The Symbol Remains in 2020. Can you tell us a little about that album?

"Yeah, you know, there was a 19-year gap between our 2020 album, The Symbol Remains, and our album, "Curse of the Hidden Mirror." We sort of resisted going back into the studio until we got an offer we couldn't refuse. We decided to make the album, and then of course COVID hit right in the middle of making that work. In 2020 we ended up making the record long distance. That's a whole other story but we were very pleased with the way The Symbol Remains came out. It was voted in many lists across the internet as Best Album and Best Hard rock record of 2020."



I had an interesting question for you from our editor. Why did you include an umlaut In your name? Is there a significance for including that?

"You know, there were a few bands including Spinal Tap, you know that have the two dots over one of the letters. And of course, Spinal Tap got it from us. Motley Crue got it from us. You know, the origin of it goes back to Allen Lanier who was our keyboard player for many years. He passed away a few years ago. He just thought it looked cool. And that's the gist."

Was your band The first band to use lasers in concert light shows?

"No, but we certainly took it to another level though. I actually saw Led Zeppelin use a single laser before we did. I was watching and they had a single beam of laser light go over Jimmy Page's head during one of his solos. Before we did that I saw it used with Paul McCartney. He used it during a Live and Let Die section with all the big music in the middle. It was pretty awesome the way he did it. And our manager back in the day found a guy that was sort of an experimental scientist who was doing stuff with lasers that nobody was doing. He was doing it to like a laser show in a loft in New York City and he took us down to see it. We noticed this guy who had literally invented stuff that nobody was doing. So we went down to see it. And he said that he could do this stuff on the road. But you know, this stuff is not meant to travel. It's just like a fixed exhibit in the loft. If we can travel with it, this would be awesome. So we paid the guy too much money and took all this stuff on tour with us. What we were doing was stuff nobody could do because this guy rented it and we did it for about a year and a half or so. And it was mind-boggling. I had a fiber optic cable going to a laser. The laser itself was behind the stage but the fiber optic cable went through my suit. I was wearing a lens around my wrist. Yeah, and I could point the laser light up anywhere I wanted to, out of my hand. And I could like hit a mirror up on the ceiling. Our show had the most outrageous laser show ever. Except for several months in, the Occupational Safety and Hazard Administration showed up and said you can't do that."


Blue Oyster Cult will perform at Dosey Doe Big Barn on November 30. This is your opportunity to hear this legendary rock band perform in a more intimate setting at Dosey Doe. Click here to purchase tickets to their November 30 performance.