/

/

Woodlands Christian Celebrates Creativity And Passion At Fine Arts Extravaganza
Woodlands Christian Celebrates Creativity And Passion At Fine Arts Extravaganza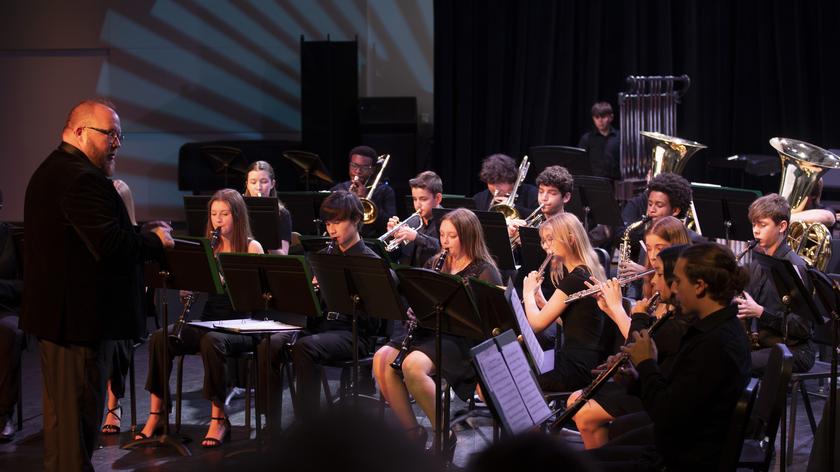 THE WOODLANDS, TX -- The Woodlands Christian Academy recently held a Fine Arts Extravaganza in the Micah Academic Center, an exhibition of artistic talents showcased by students from PreK-12.
The three floors of the high school building were filled with art exhibits and performances, creating a vibrant and immersive experience for attendees. Over 600 pieces of art were on display, including intricate drawings, photographs, and mixed media pieces.

In addition to the art exhibit, live performances in the Ruth Auditorium included a band concert, choir concert, improv, and dance. The high school choir performed on the second floor of the Micah, while the third floor was the perfect setting for a delightful piano show put on by lower school students.

"Everything you see here is a culmination of the last nine months and is a testament of our students creativity and passion," said Phil Sweger, Director of Fine Arts. "It's amazing to see our students grow and use their gifts to glorify God. Our hope is that you would be blessed and uplifted by these works of art."

The Fine Arts program at Woodlands Christian is growing and the Fine Arts Extravaganza is part of the school's ongoing commitment to give students an opportunity to express themselves creatively. Woodlands Christian sees a strong fine arts program as an essential part of a well rounded education. The school is in middle of a capital campaign for a new Fine Arts Educational Building and Outdoor Amphitheater. Woodlands Christian is now enrolling grades PreK - 12th for the 2023-2024 school year.