/

/

Keeton Coffman and Coulter Lee Brown & The Bad Habits coming to Dosey Doe - The Big Barn June 3
Keeton Coffman and Coulter Lee Brown & The Bad Habits coming to Dosey Doe - The Big Barn June 3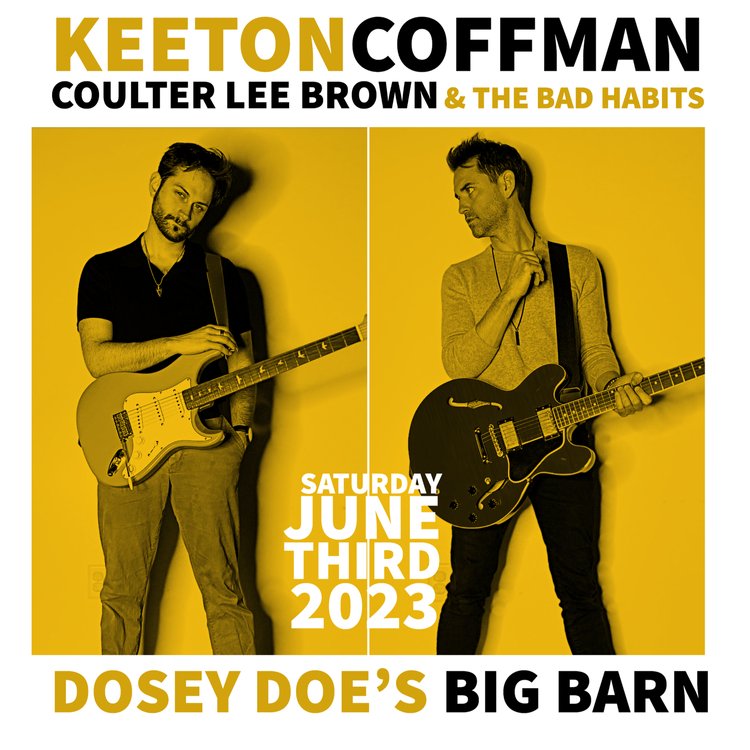 THE WOODLANDS, TX – On Saturday June 3, Keeton Coffman and Coulter Lee Brown & The Bad Habits co-headline at Dosey Doe's legendary Big Barn. The beautiful thread that ties these two gifted artists' together takes center stage for one night only, on an evening no music lover will want to miss.

Keeton Coffman, founder and owner of the fastest growing music school in Houston (Rehearsal Room Music School) is no stranger to the stage. Rounding out 80 shows in these past 12 months, Keeton has been touring heavily in support of his highly praised album, Hard Times (rated 8 out of 10 by American Songwriter) and is wrapping up his touring season on this special night at Dosey Doe.

"There are mighty few triple threats in music. Rarely do you find a quadruple threat as Keeton is – a star singer/songwriter/player and amazing live," said Steve Said, owner of Dosey Doe.

Meanwhile, Coulter quickly became the Studio Director and Lead Instructor for Rehearsal Room, all while keeping his musical career thriving – playing venues across the state including the Houston Livestock Show and Rodeo, White Oak Music Hall, and Dosey Doe BBQ. Brown's vocal prowess, songwriting chops and style are second only to his John Mayer-like lead guitar artistry – full of both virtuosity and pop sensibility.

His new single, "Bad News" is releasing the day before the show on June 2, with a full length on its heels, slated for release in 2024.

These two share bold dreams for not only their own respective music and fanbases, but for developing a community of artists at the school as well.

In the past 18 months, the school has more than doubled in size… and it's no wonder why – with a state of the art facility for lessons, recording and a live venue for performance – Rehearsal Room is home for a community of artists like no other.

The school and its owner, Keeton, were recently highlighted on Great Day Houston, and it's with good reason. It's the only music school in all of Houston that has something to offer everyone – from the preschooler to the artist ready to make their first album and play their first tour. This community has now grown to over two hundred participants in less than a year and half.

"Coulter and I feel that we not only make music for our fans… but for these students and their families as well. And what we do on stage, lays the groundwork for the generation to come. What better way to bring us all together, than with a concert at the legendary Dosey Doe!"

Find the music of Keeton Coffman as well as Coulter Lee Brown & The Bad Habits wherever you stream music.