/

/

Scholarship presented to senior with a drive to save lives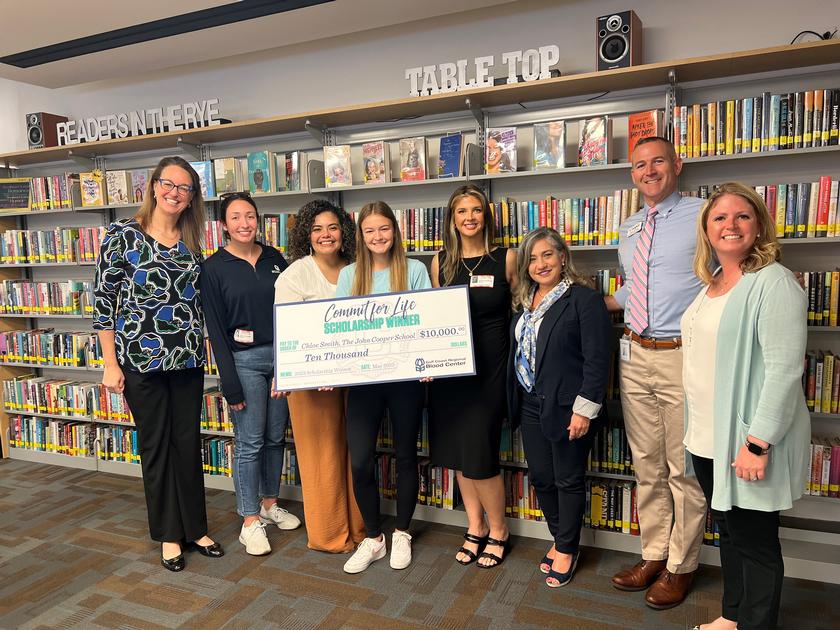 THE WOODLANDS, TX -- Carrying a giant check in her arms, a representative from Gulf Coast Regional Blood Center visited The John Cooper School campus on Wednesday, May 17.
Chloe Smith from The John Cooper School wins $10,000 scholarship
The $10,000 check was presented to senior Chloe Smith, a special student who spent part of her year hosting two blood drives for her school.
"Out of over 200 applicants, she was our first-ever $10,000 scholarship winner," said Sarah Goodman, Manager of Donor Recruitment for the blood center.
Chloe won the blood center's Creative Scholarship "for hosting and championing two blood drives here at The John Cooper School, along with her stellar letters of recommendation and the essay that she provided," explained Goodman.
"I was super surprised; I had no idea," said Chloe. "Everyone should go donate blood – it's a great cause and it's saves so many lives, so keep donating!"
Chloe will graduate next week, and plans to attend Purdue University and study mechanical engineering.
"You did a great job and we're very very proud of you," said Goodman. "We're so excited for your future, and everything you've done for the blood center and for the lives that you've saved this year."
The John Cooper School is a PK-12 independent, college preparatory day school that has been serving The Woodlands and greater Houston area since 1988.
For more information, visit
www.johncooper.org.