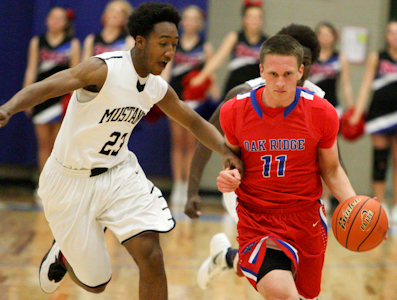 OAK RIDGE NORTH, Texas – The Oak Ridge High School boys' basketball team defeated one district champion on Tuesday. It hopes to beat another one in a week.
College Park girls fall in playoffs
The War Eagles played with consistency for 32 minutes. They showed no panic and were the poised team at the end of a 52-43 victory over District 14-5A champion and No. 15 state-ranked The Woodlands.
Oak Ridge (15-12, 6-6) now has the daunting task of facing District 13-5A champion and No. 11 state-ranked Westfield in the opening round of the playoffs. The game is set for 7 p.m. Tuesday, Feb. 19, at Klein High School.
"Westfield is very talented," War Eagles coach Rob Stewart noted. "They've got three seniors that are Division I guys and probably a couple other Division I guys that are juniors. They are extremely long and athletic, but if we play as hard as we did tonight, I think we'll give them a battle."
The War Eagles bolted to a 21-9 lead at the quarter and held a 32-24 lead at halftime. A slow and deliberate pace continued to work in their favor as they took a 40-32 advantage into the final eight minutes.
Oak Ridge increased the lead to 46-36 with 3:41 remaining before the Highlanders made one last push. The Woodlands scored five unanswered points to trim the War Eagles' lead to 46-41 with 1:06 left to play. It was 47-43 with :59.2 still showing on the clock.
But the War Eagles held together and scored the game's final five points for its most impressive win to date, handing the Highlanders (27-6, 11-1) its only district loss of the season.
"That's one of the great things about having some smart kids and having some seniors that are good leaders," Steward said in reference to the team's poise down the stretch.
Bryan Lehmann scored 16 points and Nick Prejean added 10 more to pace the War Eagles' attack.
Garret Colonna countered with 19 points for The Woodlands, which opens the postseason next week as well against the fourth-place team from District 13-5A to be determined.
"We shot the ball better tonight and I thought our effort level was top 10," Stewart said of the victory in this friendly rivalry. "I always say that when we play The Woodlands, it's like playing your brother.
"(The Woodlands coach) Dale (Reed) and I are such good friends, and the boys know each other and they get along well. Afterwards the kids are all hugging each other."
There was also a generous amount of hugging among the Oak Ridge student body as it spilled onto the court in celebration of the victory.
The College Park Cavaliers closed out the 2012-13 season at home Tuesday with a 58-45 victory over Bryan. Bryon Makel scored 14 points while Desmond Fleming and Karson Baer added 12 and 11 points respectively to lead the way for College Park (20-16, 4-8).
In addition, the College Park High School girls' basketball team fell 60-45 to Klein Collins in a bi-district playoff game Tuesday at Klein Oak High School. Alexia Sanders scored 18 points and Kristin Chapa added six more for the Lady Cavaliers (20-12).