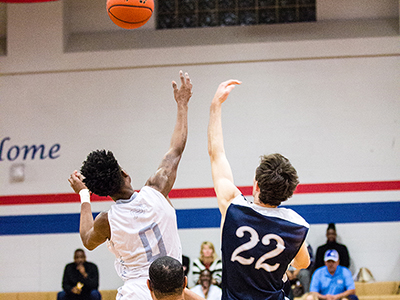 THE WOODLANDS, Texas — Oak Ridge and College Park boys basketball teams met in the second round of district play. After trailing the War Eagles, College Park pulled ahead to win the game 70 - 63, earning their second district win of the season.

Watch the highlights from the game.

Oak Ridge played aggressively with Darius Love and Tyler Dawson leading throughout the first half and were ahead 34-23. College Park head coach Clifton McNeely said his team didn't play with much energy at the start of the game.

Oak Ridge kept up the momentum during the third quarter, but College Park took off running at the end of the third quarter and maintained a steady pace through the fourth quarter that allowed them to pull ahead during the last few minutes of the game and finalize the score to 70-63, Cavaliers.

"The big thing we talked about tonight was that they had to play harder than the guy across from them," McNeely said. "At the end of the third quarter and fourth quarter, they did that."

College Park sophomore guard and Player of the Game Shannon Scott lead the team totalling 26 points for the night.

"He's definitely one of the best shooters in the district, and he's only going to get better," said McNeely. "Shannon keeps developing. He's going to be a great basketball player, being only 15 years old and a sophomore."

The College Park Cavaliers will face Summer Creek at home on Tuesday, February 9 at 7 p.m. while the Oak Ridge War Eagles play The Woodlands on Highlander territory.