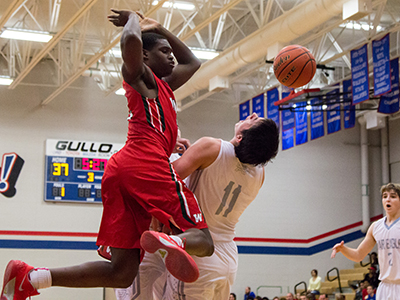 SHENANDOAH, Texas — The Woodlands Highlanders faced a tough cross-town match-up at Oak Ridge but managed to scramble a 79-66 victory in the final seconds of the game.

Watch highlights from the game here.

What started as a neck-and-neck battle in the first quarter became a Highlander-led game with Clay Creighton, A.J. Bullard and Romello Wilbert as the top shooters. The quarter ended 16-10, Highlanders, and The Woodlands continued to add pressure through the second quarter and closed the half with a 35-26 lead.

Oak Ridge returned to the floor and were able to capitalize on Highlander turnovers, missed layups and missed free-throws. The Woodlands was still able to hold their lead, but several War Eagle three pointers and a big run in the fourth closed the scoring gap by just two points with only three minutes left in the game. Senior forward and Player of the Game, Ryan Lang, made some big shots and led the Highlanders to their 13 point lead and final score of 79-66.

"I'm glad we found a way to win it. I was very impressed with how hard Oak Ridge played, and how Tyler Dawson, Darius Love and Trevor Graham played really, really well and hard," Highlander head coach Dale Reed said. "But through it all I was proud of how well our guys responded, especially when it got to a two point game in the fourth quarter. Then we made a spurt there just because of effort, rebounding and making some shots, so I was really pleased that we were able to finish it."

The Oak Ridge War Eagles will have a bye as The Woodlands hosts Summer Creek High School Tuesday, January 19 at 7 p.m.