/

/

EfTA junior high Engineering Design Competition preps future robotic engineers
EfTA junior high Engineering Design Competition preps future robotic engineers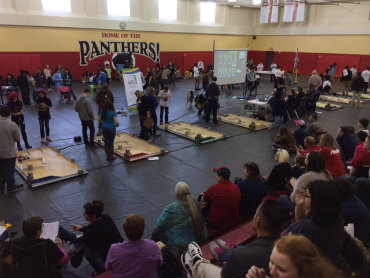 MONTGOMERY COUNTY, Texas -- Over 650 budding robotic engineers vied for trophies and bragging rights at the annual Engineering Design Competition (EDC), sponsored by Education for Tomorrow Alliance (EfTA) at Moorhead Junior High, Saturday, February 7.
EDC involves over 650 junior high school students.
Consisting of two and three-man teams from the Conroe Independent School District and private schools, approximately 260 teams participated in the double elimination tournament. Organized and run by G.J. Snyder and Paul Lutes from Best Robotics of North Houston, they run a year-round robotics program with clubs and competitions throughout the Greater Houston area.
This weekend's competition was for seventh and eighth grade students, with the high school competition to follow next Saturday. Many of the eighth grade students were back for a second year including the defending champion from Irons Junior High, Zachary Twilla, Back this year with new partner, Andrew Avance, they all but advanced to the semi-final round for 3rd and 4th place. Look for them to come back again next year and participate in the high school EDC.
The competition is not just comprised of gadget guys. Although not an equal 50/50 gender mix, approximately one-third were two and three-girl teams. Gender aside, sometimes the students are disadvantaged due to circumstances beyond their control. Madison Zarzour is a perfect example. Her father passed away when she was just ten, and her mother is self-admittedly, technologically impaired.
"She doesn't get this from me, so I'm unable to help her," said Madison's mother, Chris. "She gets it from her father, but unfortunately he's not here."
Madison, along with her partner and schoolmate, Allie, participated in the 8th grade EDC because 'it's such a nerdy thing to do.' This is their second year to participate, and the two credit their science teacher at Peet Junior High, with encouraging them; so much so, that they named their robot after him...Jeff Bots.
The two girls are savvy enough to know that image is also important. The pair were decked out in camo-colored, tulle tutus, and black T-shirts bearing the phrase, "Keep Calm and Nerd On." The night before the competition, instead of test-driving "Jeff Bots," the hunt was on for another important piece of costuming.
"At 10:30 last night I'm driving her around trying to find nerdy-looking glasses," said Chris. "Today I asked if the robot had been checked to see if it was in good running condition, and they're in the bathroom putting on mascara. It's all about the outfits."
Not only does costuming and/or a theme add to the student's enthusiasm for participating, it enables the crowd to support the teams without knowing the students' names. When the Marines from McCullough Junior High approached the obstacle course, you could hear shouts of "Go Marines," and "Semper Fi." And who couldn't cheer for the Ninja Turtle robot, or be enamored with one that looked like a lady bug?
At the end of the day, it's teamwork and a robust robotic design that prevail. The Ninja Turtle found himself on his back, a track came off a tank, and some robots never got out of the starting gate. It's a great experience learning to design a robot that can corral a golf ball and drop it in a hole, devise a mechanism tht will flip a switch, and navigate an obstacle course to amass as many points as possible in sixty seconds.
The eighth grade team of Kyle Mrosko and Cody Pursifullo from Peet Jr High, wearing maroon and white with the Texas A&M logo on both their shirts and robot, marched through the elimination rounds and scored highest in the final round of competition, to take first place. Engineering degrees from Texas A&M for the Aggie wannabees, looks like a distinct possibility.
Next weekend, February 14, 30 to 40 teams will be competing in the senior high Engineering Design Competition, from 8:00 a.m. to 4:00 p.m. at Lone Star College – Montgomery, in the theater on campus. The obstacle course will be more challenging, the robots more complex, but it will have to go some to beat the outrageous costumes and clever themes.