/

/

All ages welcome to join the fight against breast cancer at The Pink 5K on May 9
All ages welcome to join the fight against breast cancer at The Pink 5K on May 9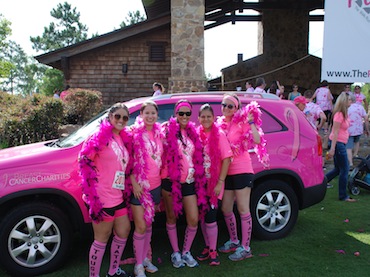 THE WOODLANDS, Texas - For the second year, The Pink 5K will be coming to The Woodlands, where participants of all ages will join together to help beat the fight against breast cancer.

Hosted by The Breast Cancer Charities of America, The Pink 5K walk/run and one-mile walk will be on Saturday, May 9, at Rob Fleming Park in Creekside. Proceeds from the event will go towards BCCA's mission to eliminate breast cancer as a life-threatening illness, while providing program services that focus on education, prevention and survivorship. One program that The Pink 5K benefits in particular is the "Feeling Beautiful Again" program, where it provides gift bags to breast cancer patients to improve their self-esteem and body image.

A sellout event last year with more than double the participants expected, the same is intended for this year's 5K run, with a goal to raise $50,000.

"Breast cancer impacts an entire family," said Erica Johnson, Executive Director of iGoPink and The Breast Cancer Charities of America. "The Pink 5K can be an event that the whole family can come together to support. We allow all ages, strollers and wheelchairs for the one-mile loop, and you can even bring your dog out."

The Pink 5K run/walk will begin at 8:30am, with the one-mile loop beginning shortly after at 8:45am. Online registration is now open where participants can register for $35, and just $20 for kids. Race day registration for $45 will be available beginning at 7am on May 9, however a T-shirt will not be guaranteed.

Participants are encouraged to dress up for the 5K run/walk, and there will even be a "Best Costume" contest for the most creative outfit!

"We see everything from pink boas to fluffy tutus," laughed Johnson. "The best costumes are when the guys come out in tutus to show their support."

Johnson was sure to note that many survivors attend the event and are always amazed at the amount of people who come out to support the fight against breast cancer.

"Current breast cancer patients come out to the event, and to see so many people come out to support their fight, is really amazing and powerful for them to see a community to come together. It shows that the people here are willing to help in any way they can."

With over two million diagnosed in The United States alone, The Breast Cancer Charities of America is in a race to the finish line to eliminate breast cancer as life-threatening illness. Join the race with family and friends on Mother's Day weekend in support of current patients, and in honor of survivors.

For more information about The Pink 5K and to register, visit the link provided below.