/

/

Designers announced for Wine, Women & Shoes event next month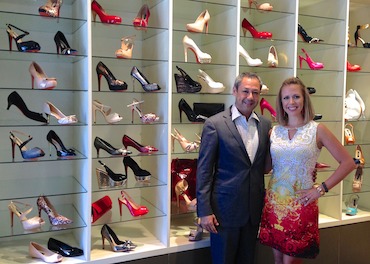 THE WOODLANDS, Texas -- Four name-brand designers have joined the New York-Style Runway show that will be spotlighting the night at Wine Women and Shoes on September 24.

Kendra Scott will be dazzling the runway as the Exclusive Jewelry Sponsor as well as the fabulous 'Sip & Sparkle' champagne & bling lounge; Trina Turk will be providing a sneak peek at their fall look-book as the Exclusive Apparel Sponsor; Elaine Turner will be showcasing their gorgeous line of Fall handbags; and Uptown Park's custom shoe designer, LUCHO, will grace the catwalk with gorgeous stilettos every woman will want.

"This is going to be THE Fall fashion event you will want to be at" said Erica Johnson, Executive Director of The Breast Cancer Charities of America. "The looks that will be gracing the runway are stunning and this year we have some amazing surprises in the show that you won't want to miss."

Wine Women & Shoes Houston's fashion show will also be celebrating the health and survivorship of five beautiful breast cancer survivors from Montgomery County who will be gracing the runway in gowns from Couture House. The evening is presented by EXIT Lone Stare Realty and proceeds will benefit The Breast Cancer Charities of America.

Tickets for Wine Women & Shoes are available now. VIP tickets are available on a first come first serve basis. Sponsorship opportunities also remain. To find out more information visit: www.WineWomenandShoes.com/Houston or www.iGoPink.org

Additional event sponsors include: BMW The Woodlands & Houston North, CHLOE Wine Collection, A Memorable Event, Radiance Advanced Skin & Body Care, A Memorable Event, Morgan Stanley, The Lind Institute of Plastic Surgery, blo Blow Dry Bar, Massage Heights, Villa Sport, The Vein Doctors, Pinnacle Point Insurance, Four Seasons Veterinary Hospital, Speedpro Imaging, Mindy Harmon Photography, Brio Tuscan Grille, KB Kasuals, Rhinestone Leopard, Armario de la Bella, Tara Flannery Photography, Stori Brie Photography, Nnene Mbonu Photography, Nearly Me, Neal Hamil Agency, The Woodlands Waterway Marriott, Double P Bakery, South Walton Florida, Reviewit, Sunny 99.1, Fox 26, The Woodlands Lifestyles & Homes, Living Magazine, ConnexionW, Community Impact, 99.7 K-Star Country, I am Magazine and Woodlands Online.