/

/

Community shows support for fight against breast cancer with Wine Women & Shoes event
Community shows support for fight against breast cancer with Wine Women & Shoes event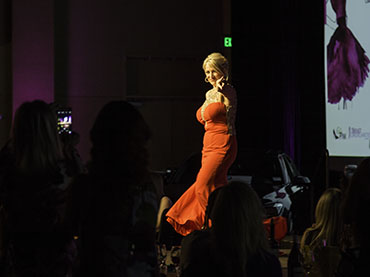 THE WOODLANDS, Texas - On Thursday, September 24, the second annual Wine Women & Shoes event was held at The Woodlands Waterway Marriott, benefiting The Breast Cancer Charities of America. An ultimate "ladies night out," women in the community showed their support for the fight against breast cancer, while also having a fun-filled evening that included shopping, wine tastings and a fashion show.
Proceeds from the event benefits the mission of The Breast Cancer Charities of America: to eliminate breast cancer as a life-threatening illness.
The Breast Cancer Charities of America (BCCA) is a non-profit organization that is working to win the fight against breast cancer. Proceeds from Thursday's event will benefit the mission of BCCA to eliminate breast cancer as a life-threatening illness, while providing program services that focus on education, prevention and survivorship.
"We really focus on the education side of 'How do we help women prevent and survive breast cancer?' So we're really trying to educate women," said Erica Johnson, Founder and Executive Director of The Breast Cancer Charities of America.
BCCA's services and programs includesuniversity education, research funding for non-traditional cancer treatment and prevention options, medical missions, and "Feeling Beautiful Again," a program that provides gift bags to breast cancer patients to help improve their self-esteem and body image.
"It is fantastic to see that we have such a supportive community that really sees the passion behind helping women who are going through breast cancer," said Johnson. "It is something that we all unfortunately are affected by, but it's great to see people that are willing to come out here and really help support the cause of women preventing and surviving breast cancer."
Attendees at the event had an evening packed full of fun, fashion and wine. From wine tastings and shopping to a silent and live auctions and a dream closet raffle, there wasn't anything not to love about Wine Women & Shoes. Guests could shop for accessories and clothing from different vendors including Kendra Scott and Armario de la Bella, while also enjoying camaraderie with friends. A highlight of the event was a booth where attendees could try on LUCHO shoes with the designer himself present.
"There are so many festivities, so many vendors, and so much fun. The great thing is that we do get to have a lot of fun and enjoy the evening, and who doesn't love wine and shoes, but also do it for a great cause. That's what we're all about," explained Jennifer Bruse, Digital Marketing Manager for The Breast Cancer Charities of America.
The main event of the night was the New York style fashion show. Models graced the runway wearing the latest fashion trends and accessories. The crowd went wild, however, when the last four models walked the runway, as they were all local breast cancer survivors. The models were all diagnosed at different ages, with some who finished treatment a couple years ago, and some who just finished treatment a few weeks ago.
"Four of the models tonight are from Montgomery County and they're all breast cancer survivors," said Johnson. "It is really neat to see that."
EXIT Lone Star Realty was the presenting sponsor for the Wine Women & Shoes event.
"I have a sister-in-law and a niece that are both breast cancer survivors, so it is something that's very near and dear to my heart and I guess the biggest thing is the philosophy of this organization. It's [BCCA] all about education and taking care of the patient," said Susan Mack, Owner/Broker of EXIT Lone Star Realty.
Thursday night's event stood out from the rest while benefiting a worthy cause. In its second year, Wine Women & Shoes grew tremendously from its inaugural event in 2014. Around 400 people attended last year, and it is estimated that there were about 600 this year, and the hopes for the 2016 event are even greater.
"This is our second year to do it, and every year it is getting bigger, the word is spreading, and they're really discovering how much fun they can have while doing something great for somebody else," said Bruse.
For more information about The Breast Cancer Charities of American, visit the link provided below.