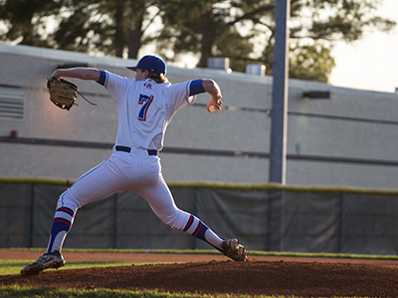 WACO, Texas -- Matt Baker and his Rockwall Yellowjackets took down the Oak Ridge War Eagle (27-2) baseball team in Game 1 of their best of three Region ll-6A semi-final series at Baylor Bears Baseball Park in Waco, 1-0.

Baker was a one man wrecking crew as he went nine full innings on the mound surrendering seven hits, striking out two while giving up just one free pass. Trey Ochoa came on in the tenth to save the game for Baker. At the plate, Baker went three for five and knocked in the only RBI of the game helping his own cause.

The War Eagles, Durbin Feltman put in yet another Herculean performance on the hill going eight and two thirds innings giving up seven hits while striking out 11 Yellow Jackets. Bailey Cobb came on in the eighth inning striking out four in going the rest of the way before Baker's heroics in the tenth. Cobb was charged with the loss.

The War Eagles weren't without their chances in the game but could not execute via the sacrifice bunt on more than one occasion. Also, a botched suicide squeeze play early in the game proved to be costly in losing the game by the slimmest of margins. Also, with two outs in the bottom of the seventh inning and runners on first and third, Anthony Smith hit a dying quail down the left field line that Rockwall left fielder Charlie Hatcher made a game saving diving catch on.

Zach Rollins led the War Eagles in collecting two hits. Luken Baker, Riley McKnight Coby Smith, Durbin Feltman and Bryce Foley all had a hit.

Chris Colacrecchi led the Yellowjackets at the plate with two singles.

It doesn't get any easier for the War Eagles as they'll most likely be facing Rockwall's ace and D1 commit (Dallas Baptist) Shayne Nance who routinely throws 87-91mph and has topped out at 93.

Oak Ridge assistant coach, Andy Einhaus shared his thoughts on the game...
"We didn't execute well tonight at all. We had several chances to put the game away but failed to do so. But, we'll back here Friday night to redeem ourselves."

In other War Eagle baseball news, Luken Baker won the Gatorade Texas High School Baseball Player of the Year award. He has informed his college of choice, TCU that he will be attending their school and not making himself eligible for the draft as he wants to be a two-way player. The baseball draft guru's had Luken being a pitcher only playing professional baseball.

Both teams will be back in Waco at Baylor Bears Park Friday night at 7:30pm.

See you in Waco!