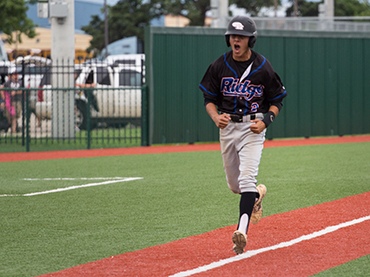 MUMFORD, Texas - Addison Moss and the Oak Ridge High School baseball team took care of business Saturday night by defeating a tough Rockwall Yellowjacket (25-9) squad, 6-2 at their home away from home, Mumford, Texas. Now, the only thing standing in their way of making it to "The Show' is the Dallas Jesuit Rangers (33-3) who defeated Lake Travis to advance to the Region 2-6A final to face the War Eagles.

Evidently, the best training ground for a pitcher is in live intra-squad Oak Ridge (29-2) scrimmages because Moss hadn't even sniffed the mound in an actual game in well over a month. The junior gave up just one hit, walked two in giving up two runs while fanning nine and threw a total of 92 pitches.

"I'm glad he (Moss) had the opportunity to pitch today because he's been wanting the ball all year long," War Eagle coach Mike Pirtle said.

If Oak Ridge had any butterflies coming into the game, Luken Baker exterminated them all in depositing the first Shayne Nance offering over the left field wall as Oak Ridge took a quick 1-0 lead before the fans had a chance to sit down in their seats. The Gatorade Texas High School Player of the year had another quality evening at the plate going 1-2, walking twice and scored two runs to go along with the bomb.

Oak Ridge bats were silent until the sixth inning but not before Moss experienced some minor control issues in the fifth inning walking the first two Rockwall batters. This set the stage for Charley Conselman who sent a laser beam to the right-centerfield, pulling his team to a 2-1 lead.

In the Oak Ridge sixth, Baker was at it again as Nance wasn't anywhere near the plate on four straight pitches, and the big senior took first base. Jose Sanchez came in to run for Baker and was eventually driven home on a seeing eye single in between first and second base by Anthony Smith that tied things up, 2-2.

"Anthony Smith had a great at bat to tie it up that gave us the momentum back," Coach Pirtle said.

In the Oak Ridge seventh, Coby Smith led off with a base knock and Tyler Hicks got him over to second base with a nice bunt down the first base line. Alex Wixson, batting for Bryce Foley drew a walk. Coby Smith advanced to third base when Matt Mihalov flew out to right field. With runners on first and third, Baker was intentionally walked to load the bases for Game 2 hero, Riley McKnight. Nance's first pitch was headed directly for McKnight and the tough senior didn't move so much as an inch to bring home Rey Chapa who was running for Smith. It was all downhill for Nance from there as junior, Michael Lawson eventually cleared the bases with a triple to deep right-center and the floodgates had officially opened.

Lawson, who has been a steady hitter all year had struggled in the series previous to the bases clearing triple.

"He's (Lawson) been thinking at the plate too much, Coach Pirtle said. "He quit thinking and knocked the mess out of the ball."

Moss came out for the seventh inning and mowed down the Yellowjackets in order. After he struck out the last batter, it took approximately two seconds for the entire War Eagle squad to mob him in celebration on the mound.

The Smiths collected two hits on the evening while Baker and Lawson had the other two remaining hits.

Rockwall's Nance made a good account of himself going the distance giving up just six hits, three walks and six earned runs. He K'd four while throwing 116 pitches on the night.

Conselman recorded the only hit for Rockwall.

"I'm proud of these kids coming back like this. We had that loss the other night and we should have won the ball game but we just couldn't hit the ball. Luken started out with a home run and every time he's done that, we've won," said Coach Pirtle.

The winning run was driven in by future Sam Houston Bearkat Riley McKnight, and he described the action...

"I was excited to get up there with the bases loaded and I knew Luken was going to get walked so I was ready. When the pitch came in and I saw it was coming my way, I made dang sure I wasn't getting out of the way."

Coach Pirtle will get together with Dallas Jesuit head coach, Brian Jones to decide when and where the two teams will meet in the Region 2-6A final.

Jones was named head baseball coach at Jesuit in 2010, and has led a strong resurgence of the Ranger program since his arrival. In his first five seasons, Jesuit has won five UIL District Championships and qualified for the Texas state playoffs each year. In addition, he is a five-time District Coach of the Year (1998, 2006, 2010, 2011, 2014).

We'd post all of Coach Pirtle's credentials but we'd run out of bandwidth.

It is suspected that the two teams will play a three-game series.

Team No Ego will be more than ready.