VOLLEYBALL: Oak Ridge wins all three matches in day one of Magnolia Volley-Battle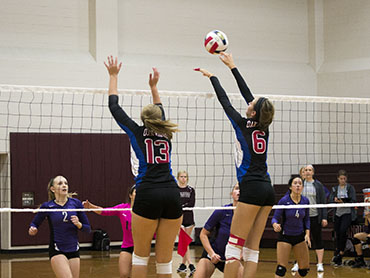 MAGNOLIA, Texas - Although an early start to the day, The Oak Ridge Lady War Eagles brought the heat for Magnolia High School's "Volley-Battle" Tournament. Winning all three matches, each in just two sets, the Lady War Eagles were unstoppable.

For their first match, the Lady War Eagles took on the Klein Collins Lady Tigers. Oak Ridge looked strong in the first set, and were soon up over the Lady Tigers by 4 points, leading 9-5. After kills from Oak Ridge's Rhyan Johnson and Hannah Mikelonis, the Lady War Eagles increased their lead 20-14 before Klein Collins called a timeout to regroup. Klein Collins comes back with kills from Kianna Crow and Karlie Greene, bringing the score to 23-19. However, that didn't stop the Lady War Eagles' stride as they took the first set 25-19.

In the second set, the Lady Tigers were ready to make a comeback as the lead alternated between Oak Ridge and Klein Collins throughout. The set is soon tied 9-9, when the Lady Tigers start to take the lead 12-9. Oak Ridge comes back with a vengeance and ties it up 14-14. After a great save by Oak Ridge Libero, Raigen Cianciulli, Rhyan Johnson has a kill for the Lady War Eagles and the set is again tied 16-16. The gym was filled with cheers and excitement from both teams, as Klein Collins and Oak Ridge continued to fight and the Lady Tigers once again took the lead 19-17. Oak Ridge head coach Tommie Lynne Sledge called a timeout and when the Lady War Eagles walked back onto the court, although down by two, they were ready to fight to the end. Oak Ridge starts to creep up on the Lady Tigers. They were soon only down by one, and due to solid blocking efforts by Oak Ridge duo Molly Russell and Hannah Mikelonis, the War Eagles were soon in the lead, 25-24, and would go on to take take the set 26-24 and win the match 2-0.

The Lady Way Eagles were on a roll going into their second match against Pflugerville Connally. It was an all-around team effort for Oak Ridge and following a 4-4 tie, Oak Ridge soon glided past the Cougars. After senior Rhyan Johnson of Oak Ridge had two straight aces and a kill from sophomore Carly Graham, the Lady War Eagles were up 10-4, and Pflugerville Connally would call a timeout soon after. Oak Ridge would still continue to increase their lead after a Brooke Clark kill, who would also garner two aces in a row, and another kill by sophomore middle blocker, Molly Russell, giving the Lady War Eagles a 18-5 lead. Oak Ridge would only allow Pflugerville Conally three more points before taking the set 25-8 over the Cougars.

Going into set two, Oak Ridge continued their stride as Graham was a huge proponent in setting up her teammates for some great kills. Clark had a kill, set up by Graham, and once again, Oak Ridge widened their lead pretty quickly and were up 10-3. Oak Ridge junior Hailey Lohnes had a kill, a block, and then another kill set up by Graham, giving the Lady War Eagles a 16-4 lead. The Cougars attempted to catch up but couldn't tame Oak Ridge, who would go on to take the second set 25-8, sweeping the Cougars 2-0.

Oak Ridge's fire was still lit for their third match on Thursday against the College Station Cougars (the same mascot as Pflugerville Conally). After a block from junior Hailey Lohnes, Oak Ridge gets the first point on the board. After what seemed to be some miscommunication from the Lady War Eagles, College Station sneaks up ahead 4-3, until a kill from Rhyan Johnson ties it up. Oak Ridge soon takes the lead, and after a few kills from Brooke Clark, The Lady War Eagles are up by five. Carly Graham also had some great kills, and College Station couldn't seem to hang on. Oak Ridge took the first set pretty quickly, 25-18.

In set 2, there were a few missteps by the Lady War Eagles, soon allowing College Station to lead 8-5. The Cougars looked strong at the beginning of the set, with kills from Shelby Sumlin and Bailey Bennett. After a kill by Kaley Wootan, Oak Ridge ties it up 14-14. Their energy takes them past the Cougars, and once again, they take the lead. Up by 4 points 19-15, the Lady War Eagles started to make errors, and College Station was able to tie it up again, 21-21. After some errors by the Cougars and a solid team effort from Oak Ridge, the Lady War Eagles take the second set 25-22, winning their third match of the day and leaving Magnolia High School undefeated in day one of the tournament.

Oak Ridge volleyball head coach Tommie Lynn Sledge, notes that although the team was behind in some sets, they never stopped playing their hardest until the end.

"I thought that they showed a lot of character and discipline to never give up no matter what the score was and their drive to win. They did a great job. They believe in that, that the game is not over until the last whistle is blown, and they are really showing that from game to game," said Sledge. "Each game I feel like another person had stepped up. Brooke Park is obviously doing a good job on the outside. The last two games our middles really stepped in, and we have consistent defense so it is truly a team effort."

The Oak Ridge Lady War Eagles will play in the second day of the Magnolia High School Volley-Battle on Friday, August 20. They will play Tomball at 9am, Cy-Ranch at 11am, and at 1pm they play their cross-town rival, The Woodlands.