Saddle River Range: A one-of-a-kind experience combined with safety, comfort & technology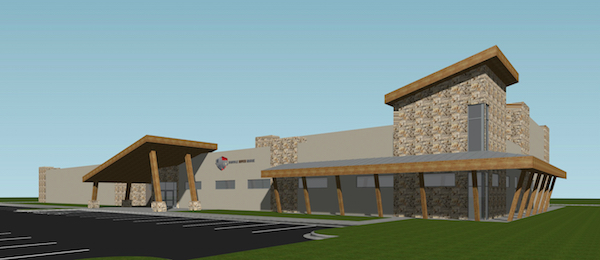 THE WOODLANDS, Texas - There's a new gun range in town, and on November 21, The Woodlands and surrounding areas will have a top-of-the-line facility that provides a family-friendly experience for shooting, social, and retail purposes. Saddle River Range will have everything from firearm and archery lanes, a training simulator, instructional classrooms, training classes, a café, and much more. The premier Texas range is located at 4280 FM 1488, with a goal to provide both avid and novice shooters the best possible service while maintaining an outstanding safety record.
The new Texas premier range is set to open on November 21, and will be complete with firearm and archery lanes, a training simulator, and much more.
Thom Bolsch, the owner of Saddle River Range, saw a need for a premier gun range in the area after trying to find a reputable place for his wife to learn how to shoot. Having to travel long distances to go to a gun range, Bolsch's wife did not feel comfortable at any facility they tried, so Bolsch decided to take the matter into his own hands.
"It made me think, 'Okay, how come there is not a more comfortable, woman-friendly, family-friendly, customer service-oriented gun range or gun store around here?' So I did a little more research, and there is pretty much nothing like this in this area," explained Bolsch.
Bolsch was more than qualified to take on the venture, with an impressive resume that includes over twenty five years of experience with the United States Secret Service. His USSS career began at the White House, later becoming a team leader with the Emergency Response Team, an elite tactical unit. Bolsch also served as a Special Agent, and was later assigned to the Presidential Protective Division. He then became an instructor at the USSS training facility, where he taught agents about firearms and tactics, as well as protection.
"I always loved the training aspect of my time with the Secret Service, said Bolsch. Even when I went through the training academy as a new recruit, I actually enjoyed it. And then I was fortunate enough, after the President's detail, to be an instructor in the training division for five years. I instructed other agents who were being reassigned to the President's detail, as well as agents that were already on the President's detail."
After concluding his distinguished career at the Houston Field Office and nearing retirement, Bolsch begin to think of ways he could use his experience as well as his desire to be an instructor again and use it to benefit the public.
"I started researching training academies and what I could do and what I could set up, and then I realized I could mix the training aspect of it with the firearms aspect."
What was once a dream for Bolsch has started to become a reality, as the 33,000 square-foot premier gun range is almost complete. Whether to improve firearms and archery skills, or to learn the basics of shooting, handling and storing a gun, Saddle River Range is the place to be. The facility will include 25 and 15-yard indoor shooting lanes, a professional training simulator, and the Bear Arms Retail Store that will sell handguns, rifles, shotguns, bows, accessories and much more. The range will also offer a special "try before you buy" rental option for those who want to try out a particular firearm before they purchase one. For the avid shooters, Saddle River Range will have a gun club with many levels of membership, although a membership is not required to use the gun range.
"We certainly want to let everyone know that we are open to the public, so if you just want to come in and shoot you can, but we have several levels of membership that could really make it beneficial to frequent shooters and people looking for that level of customer service and hospitality," said Bolsch.
Saddle River Range will also feature a specialized air handling system. The system is critical to a safe gun range because it moves all of the pollutants coming out of the guns, including lead, downrange and away from a person's respiratory system, improving the air quality for customers.
At Saddle River Range, the safety of customers is of the upmost importance. For Bolsch, the key to a successful gun range is not only one that focuses on the shooting itself, but rather the education behind owning and shooting firearms. With recent stories in the news of mass shootings and gun violence, Bolsch has his own perspective on violence and gun control.
"I think the focus is on the wrong thing. We've all heard the old adage, 'Guns don't kill people, people kill people.' Well, it's very true. We don't blame other things that harm people as the culprit. The culprit has to be the guilty party. I think the government needs to focus more on the criminal aspect and getting people the mental health they deserve and need, rather than just the piece of equipment that does the damage. I think it's a dishonest way to try to push the political agenda of the anti-second amendment crowd, and to take these very sad events and politicize them and make it an event to try to take away law abiding citizens right to keep and bear arms," said Bolsch.
Saddle River Range does not just sell guns to customers. The staff will work to make sure that when they walk out of the facility, customers will know how to operate the gun safely, as well as what to do with the firearm when it is not in use, something that is equally as important. Education is a key factor in being a responsible gun owner, and at Saddle River Range, they provide basic to advanced classes so that their customers know the ins and outs to gun safety.
"Education and training are the two most important things when it comes to guns, and Saddle River Range is not going to be that gun store that just sells guns to people and they walk out the door and then that's it. We want to be the most friendly and most comfortable, but most importantly the most safe gun range and gun store there is. We're going to have basic training sessions, such as CHL and basic hand gun and basic rifle, all the way up to tactical carbine classes. I've hired some of the best instructors that I could find, and we're getting the curriculum together now. I think people will be very impressed when they see the level of training we are going to offer," said Bolsch.
For Bolsch, Saddle River Range is much more than a gun range. It is a place where the public can come out to learn everything about firearms and archery in a safe manner, surrounded by professionals and highly qualified instructors. The Texas-sized gun range will officially open on November 21 and 22, and in celebration, there will be a grand opening event on both days. The family-friendly event will have demonstrations, prizes, raffles, activities for the kids, vendors, and much more. Tours of the facility will also be available, and the ranges, training simulator, Bear Arms Store and the café will be open for everyone to enjoy! For more information about Saddle River Range and to inquire about membership, call 281-968-8855 or visit the website provided below.