VOLLEYBALL: The Lady War Eagles sweep Klein in three, proceed to the next round of playoffs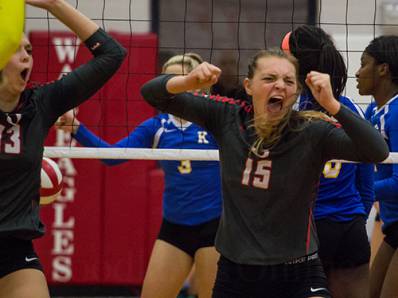 OAK RIDGE, Texas — Oak Ridge swept Klein in three 25-19 sets Tuesday night and will be off to the next round of playoffs later this week.

With a 9-3 record and a shared second place in district with College Park, the Lady War Eagles have faced some adversity in their season. The resilient team pushed through, closed large scoring gaps and pulled over several of the teams they faced.

"I feel like they truly are a team," Head Coach Tommie Sledge said. "They work to be a team, and they work at those things so that they're aggressive at that and the stressful situations. That's not something you can fix like you do in practice or we talk about in practice."

Two big contributors to their bi-district round of playoffs were sophomore setter, Carly Graham, with 26 assists, 12 digs, eight kills and an ace and senior outside hitter, Rhyan Johnson, with 15 digs and six kills. Sledge said Graham and Johnson were the two most consistent and level-headed athletes on the team.

"Rhyan can take anything you throw at her. There was actually a College Park game where they picked on her, they picked on her and they picked on her, and she never wavered. She stayed steady as a stone and never let anything get past her," Sledge said. "Carly is such a volleyball thinker. The wheels are always turning. She wants to find a way and she wants us to tell her what's open, and she'll get it done. She's always looking over there what needs to be done, and she doesn't mind being the person to do it."

While they celebrate this win, Sledge said she wants to move forward in playoffs with short, mini games and for her team to take each point as it is and and capitalize on being the best serving team they can possibly be. Sledge said that her team's will power to dominate has had much to do with this season's success and their savored victory over Klein.

"The will that these girls have to win is amazing," Sledge said. "It makes me such a proud coach to be apart of their daily lives helping them achieve their goals, and they really do believe that they're the best. They believe that whatever they work for they can accomplish, which is huge for teenagers and kids to believe that."

The Lady War Eagles are set to play Round Rock High School in the Area Playoffs later this week.