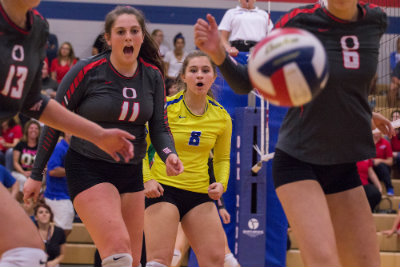 GARNER, Texas — The Oak Ridge High School (35-7) varsity volleyball team's quest for a state championship came to an end in the 6A state semi-final Friday night against Fort Bend Austin (46-2) 3 sets to 1 , 25-23, 21-25, 13-25 and 14-25.

The Fort Bend Austin Lady Bulldogs leapt out to a commanding lead in the first set, with their biggest lead coming at 4-10. A kill from the Lady War Eagles's sophomore setter, Carly Graham, ended the Lady Bulldogs' run and started the comeback. The set became tied at 17, when Austin hit the ball out. The two teams would trade points for the rest of the set, tying at 18, 20, and 21. A Lexi Overman ace, gave the Lady War Eagles a 23-21 lead, and two kills by senior outside hitter, Brooke Clark, closed out the win for Oak Ridge. They won the first set 25-23.

In set 2, Oak Ridge started with a 3-0 lead with a Graham kill, an Overman ace, and a Molly Russell kill. But, Austin did not go away. Two Lady Bulldog kills and two Lady War Eagle errors tied up the game at 7-7. The score remained within one point until a kill by Austin broke the trend and put the Lady Bulldogs up 18-16. Both teams' defenses played stellar all night, but it really showed in the second set. With the score 18-20, the rally continued on for several minutes after diving saves on both sides. The point would end up going to the Lady Bulldogs, making the score 18-21. The second set went to Austin, 25-21.

After the second set, Fort Bend Austin took command of the match. The Lady War Eagles never had a lead in the third set. The Lady Bulldogs showed why they have only lost two matches the whole season. Madison Rhoder, senior middle blocker for Austin, led both team with 18 kills. Austin dominated the third set, 25-13.

The Lady War Eagles took the lead on a kill by Russell on the first ball in the fourth set. After a tip by Graham that put Oak Ridge up 2-1, Austin would lead the rest of the match. The Lady Bulldogs took the set 25-14.

The Lady War Eagles ended the season 35-7. Fort Bend Austin advances to the state final, Saturday, November 20 at 6:00 pm versus Hebron.