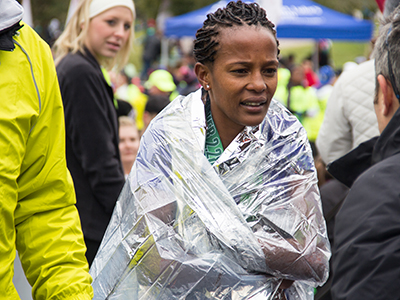 THE WOODLANDS, Texas – For Fidelity Investments The Woodlands Marathon elite athlete coordinator Chris Strait, constructing a quality elite field each year is akin to putting together a puzzle with chess pieces.

"It's always a challenge to put together the fastest field possible," says Strait, who is producing his third consecutive field of elite athletes for the event. "The main objective, however, is to not only have a fast field, but to also have a deep field."

Money helps. And with the third largest marathon prize purse in Texas for the 2015-2016 marathon cycle, including a top prize of $3,000 for both male and female marathon winners, next Saturday's race is once again drawing the same caliber of athlete that produced the 25th fastest winning men's time in America last year.

Guaranteed money in the marathon and half marathon combined will total $16,650 with an additional $6,900 available in marathon primes and race record bonuses in both events.

"We have supported elite athletes since the return of The Woodlands Marathon," Strait said. "The challenge from the foreign athlete's perspective is obtaining their athletic travel visas.

"It is a process that takes a bit of back and forth between me, athletes and agents as well as embassies in order to get the right documentation together."

Strait says sometimes it doesn't always come together, but it is why he also has a deep contact list too.

"We have had tremendous feedback year after year from our elites, and this is why we have a good amount of returning athletes," he said. "There are so many racing options each year and my aim is to have these elites put us on their calendar every year."

New for 2016 is IAAF-AIMS course certification – only the fourth marathon in Texas to obtain it, which allows competitors to use their times to meet their country's standard to qualify for this year's summer Olympics in Rio De Janeiro, Brazil – and drug testing per United States Anti-Doping Agency (USADA) standards.

Defending champion Philip Lagat Chirchir, 32, is set to return, but the likely favorite is fellow Kenyan, 32-year-old Robert Gaitho Gititu.While Lagat was busy winning The Woodlands and Des Moines in 2:19:19 and 2:21:02 last March and October, Gititu won the Wels (Upper Austria) Half Marathon in mid-March in a personal best time of 1:04:59 two months before taking his marathon best to 2:14:37 while winning the 16th annual Green Europe Marathon, which starts in Lipica, Slovenia and finishes in Trieste, Italy. The duo will be pushed by two recent additions to the field – also from Kenya – in Mark Kipkosgei Chepses and Geoffrey Birgen Liprotich.

Chepses is the four-time winner of the Little Rock Marathon (2010-2014) with wins in Richmond (2010), Knoxville (2014), Birmingham (2014) and last year in Tallahassee in 2:19:11. The 39-year-old kicked off 2016 with a 2:28:58 victory last month in the Trinidad and Tobago International Marathon.

Meanwhile, Birgen, 33, has posted eight marathon times of 2:22 or better in the last two years including wins in Chinese Taipei, Sri Lanka and most recently in Jakarta,Indonesia last October where he recorded a personal best of 2:17:43. Ethiopian Hirut Beyene Guangul is the odds-on favorite in the women's marathon.

The 25-year-old earned over $23,000 in prize money last year, including five of her nine career marathon wins. She won at the Buffalo Marathon (2:39:01) in late May, Pike's Peak (Colorado) Marathon (4:29:09) in mid-August, Quad Cities (Moline, IL) Marathon (2:39:10) in late September and a pair at the Atlantic City Marathon (2:42:11) and the Anthem Richmond (VA) Marathon (2:42:13) in mid-October and November, respectively.

Guangul's 2:34:03 PR is closely matched by fellow Ethiopian Demse Alemtsehay Mesfin. The 30-year-old brings a 2:34:22 best and has been on the podium in five of her last eight marathons, dating back to September 2013 where she was second in 2:35:18 at the Baden Marathon in Karlsruhe, Germany. Mesfin won $10,000 at the 2014 Jersualem International Marathon with a 2:47:24 effort and has a 2:49:37 victory to her credit at the Bangalore, India Bengaluru Midnight Marathon in December 2014.

A late entry is 29-year-old Ethiopian Ayantu Dakebo Hailemaryam, who sports a 2:33:59 best from her win at the 2014 Reims Marathon in France.The battles for the titles of the newly-minted Houston Methodist The Woodlands Half Marathon may come down to a select two or three.Or make that a couple of Toos in the men's field – 22-year-old Nicholas Kipngetich Too and 36-year-old Hillary Too.

Both Kenyans and both had a busy and successful 2015.

The younger Too was 4th in the RRCA National Half Marathon championship in Parkersburg, West Virginia in 1:05:36 and 14th (49:33) in a very deep Crim 10-Miler field two weeks later in Michigan.

These races set the table for a pair of half marathons wins in Akron, Ohio (1:03:58) and Wichita, Kansas (1:05:21) in September and October, respectively.

The older Too, who trains in the Research Triangle that includes Chapel Hill, North Carolina, came to Texas and won the Cowtown Half Marathon – in frigid conditions early last March - in 1:06:02 followed two weeks later with another victory in the Tobacco Road Half Marathon – in 1:08:23 – in Cary, North Carolina.

His personal best of 1:05:12 came one week later at the Anthem Half Marathon in Richmond, Virginia where he was fourth and added 1:05:33 and 1:05:37 showings at the distance in April and November.

Too was also second and first, respectively, in the Nationwide Children's Hospital Columbus Marathon and the Anthem Richmond Marathon in 2:19:03 and 2:18:48.

Texas A&M's first individual champion – men's cross country -- in the SEC three years ago, Henry Lelei, 26, winner of last December's BCS 2015 Half Marathon in 1:06:49, shaved a minute off of that time to run 1:05:45 at the Aramco Houston Half Marathon this January, finishing 35th overall.

The women's half marathon race was expected to be a rematch between two ladies – 20-year-old Cynthia Jerop and 32-year-old Grace Kahura — who went 1-2 here two years ago, but enter fellow Ethiopian Demse Tewabech Yemenu, who's also 20 like Jerop.

Jerop owns the second best time in the event's four–year history with her 1:15:37 win – four minutes ahead of a distant Kahura – two years ago and she won last year's Austin Marathon in 2:54:21 after catching fellow countrywoman Hyvon Ngetich in the last quarter mile, who was widely remembered for crawling the last 100 yards for a third-place finish.

With a 1:13:33 personal best, Jerop hopes to hold off Kahura who may be primed to close the huge deficit from two years ago after a 1:14:24 PR and fourth-place inish at the Philadelphia Half Marathon last November.

Yemenu sports a 1:14:31 PR, but most recently won the Pensacola Double Bridge Run 15K in 52:16 – 13 seconds than Jerop had two years prior — and followed it up with a decisive 14-second 16:11 win at the Fort Myers (Fla.) Festival of Lights 5K..

For more information about the Fidelity Investments The Woodlands Marathon, please visit www.thewoodlandsmarathon.com.